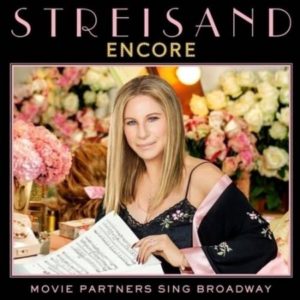 Well, more like sings along while in the last row on the floor at the huge Toyota Center in downtown Houston.  We were told time and again NO PHOTOS and certainly NO RECORDINGS!  Hmmmm.  Well, I did sneak a short video just for a keepsake.  My sister and I like to go to concerts together.  I live in Georgia and she in Texas.  So, I troll both cities to see who of interest might be coming to either town.  We've seen Bruno Mars, Sting with Paul Simon, Andrea Boccelli, Pitbull and then it would BABS!  I love Barbra as a singer and movie star.  But I do not agree with her on her political stances.  I had often heard that she is very vocal at her shows and since the concert would follow the big election between Trump and Hillary, I feared that while going to see her and while paying a pretty penny to do so, I'd have to listen to her going on and on praising Hillary.  She was supposed to win after all.  I called my sister up and we debated not only the cost (tickets were $195, $225 and $500) but was it worth spending that kind of money with the chance of a heavy wind about Hillary.  We said that, yes, it would be.  Babs is an icon after all.  We opted for the middle priced seats.  My husband was not happy about us going to see her.  A friend, who had been in law enforcement, went with his wife to see Babs.  It was before the election.  He got up and left.  Well, we were prepared.  It turned out that we had a lucky charm in the audience…President and Mrs. George H.W. Bush.  I suppose that in deference to him she kept the political talk to a minimum.  But she did sing Carol King's Being at War with Each Other with a video of Black Lives Matter and a piece on global warming showing a starving polar bear.  Now, we all know that the LGBT community loves their Babs and they were out in force this night.  I had two wives seated next to me.  When the polar bear video came on, one leaned over to me and said, "I didn't come here to get depressed." High five, girlfriend.  In all of her storied career, this was her first time to ever perform in Texas.
Babs was doing this tour to promote a new album.  Is that term "album" archaic?  Anyway, the album is Encore:Movie Partners Sing Broadway.  I had gone to iTunes and checked it out.  She sings with Hugh Jackman, Alec Baldwin, Antonio Banderas, Anne Hathaway etc.  I didn't particularly like any of them.  The one I did like was Star Treks' Chris Pine.  They sing two songs.  They sing I'll be Seeing You and I've Grown Accustomed to Your Face.  Pine sounds a lot like Nat King Cole.  Pitbull does so many collaborations.  He handled that by having the video run in the background with him singing live.  Babs did that too but not with anyone on the album.  The only person she sang along with was the deceased Anthony Newley and sang Who Can I Turn To.
Her format was very simple.  All of her album covers were displayed on a screen behind her.  She had a living room concept going on with a table and chair with a maid serving her tea.  She'd pick out a cover and then discuss its background i.e. how it came about, when did it happen in her life, what did she think of her co-star.  Then she'd sing a song from the album.  Of course, they had the big screens going.  Because we were in the back row on the floor, we couldn't see shit.  So, I decided to take a chance and took a 25 second video.  Babs is 74.  After hearing Paul Simon sing, I can see why he retired.  Can no longer hit the high notes.  Babs isn't at that stage yet.  She still has spectacular breath control and range.  But once I got home and listened to the video, well, maybe that's why they don't want you taking video.  Was it worth it?  Yes, it was.  But my advice is that if she goes back on tour and you want to see her, do so pretty soon.  See still has a spectacular figure!  Maybe next time for us will be Lady Gaga!