When I mentioned to my husband that I wanted to go to India, he said the same thing he had said to me last year about going to Cuba.  He said, "Go with your sister."  So my sister and I started talking about what type of trip to take.  As two women of a certain age who have traveled extensively, we don't mind going on a trip with just the two of us.  We did that in Tanzania (although we were hand held by the tour company).  But India is so vast and there is so much to see that we decided a tour group would be the best choice.  A small tour group.  I am not a Tuesday it must be Belgium kind of girl.  So I don't do Tauck Tours etc (not that there's anything wrong with them).  My career was in the travel business primarily with Carnival Corporation that owns a zillion cruise lines.  I know people across the industry.  One of the hot new means of travel is river cruising.  My husband and I had just taken an AMAWaterways trip on the Mekong and thoroughly enjoyed it.  I began my search to see if there was a product on the Ganges.  Hah!  There is! Uniworld River Cruises has a 13 day cruise tour.  It starts in New Delhi then goes to Agra (Taj Mahal), Jaipur and Kolkatta.  On day 6 you would board the Ganges Voyager II and cruise the rest of the itinerary.  Sounded good to us.  That way we'd see as much of India as we could in the confines of a small tour group.  The ship holds 56 passengers.  The cost for the cruise tour for a Cat. 2 Signature suite was $8300.00 per person without air.  We would be staying in 5* Oberoi Hotels.  I had been to the Cairo Oberoi for lunch.  It looks right onto the pyramids.  One of our hotels in India would look out on the Taj Mahal.  Now that's a winner. Included would be inter India air,  most meals and no tipping while on tour (except, of course, our main tour portion guide and it's optional). I called a friend who works for Uniworld and asked some questions.  It t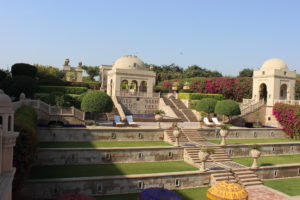 urns out that Uniworld leases the boat but runs the tours and cruise staff.  The other thing I learned was that the rooms, even though spacious, lack storage space.  That, indeed, turned out to be true.  We booked it through a friend's agency.  We also had her do the air.
Let me just bullet some points:
*The tour was run impeccably.  There was only one snafu.  When we arrived in Kolkata, we took a bus to the ship.  We arrived during a heavy rain storm and the bus windows leaked.  That's it. The only problem we had. We not only had a guide, Yogi, but someone I would call a tour facilitator, Ajay.  Ajay was there to make sure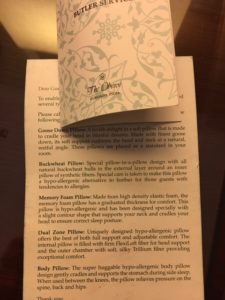 everything ran smoothly.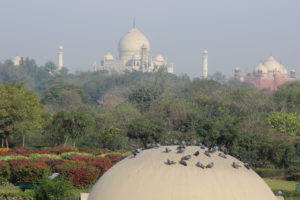 For example, in Jaipur, while we were touring the City Palace complex, he was negotiating with rickshaw drivers to take us through the streets to see the front of the complex.  He would jump out of the bus or rickshaw to buy tickets.  If someone requested trying to see something, he would try and find a way to do it.  Yogi and Ajay are highly educated gents and are well versed in not only their own country's books, movies, religions, politics but also on western culture.  While on the bus, we had what I would call a valet.  Once we returned to the bus, he would make sure our hands had been sanitized.  While on a couple of long bus rides, he made sure we had water, snacks, colas and even in one case, beer!  Once on the cruise, the ship would send a number of their crew to guide us through the busy streets and to make sure we didn't get left behind. There was one guy who kept wandering off taking pictures.  An annoyance to the rest of us but they always kept track of him.  Ajay always did the tipping for the local guides and rickshaw drivers.  Most, not all, of the excursions were worth a visit.  You can go to TripAdvisor.com, go to BloggerLinda, that's me, and look up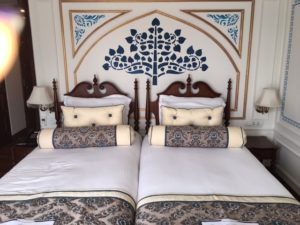 my reviews.
*Oberoi Hotels are outstanding.  All you have to do is look at the pictures online and you will see they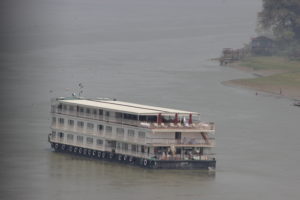 are exceptional hotels.  5* food, 5* service, 5*rooms, 5* landscaping, and, in most cases, 5* views or grounds.
*Uniworld cruise…As I pointed out, the ship holds only 56 people.  We had 28 which was an excellent number.  While on tour, we would all tour together.  While doing shore excursions from the ship, we were assigned within two groups.  The ship doesn't have grandiose spaces.  The ship, as compared to other Uniworld vessels, is rather understated.  But, it is comfortable and has plenty of space for 56 people.  Very clean and well laid out.  The pricing is basically done by the deck you're on.  The higher the deck, the higher the price.  As I also pointed out, there is very and I mean VERY little storage space.  Can't even put the suitcase under the bed.  Which reminds me, they recommend one suitcase plus a carry on per person.  The room has a small closet, with three drawers.  The bathroom is very nicely sized with a huge walk in shower.  One of my fellow travelers recommended cutting into the size of the shower and adding a closet.  There is no true balcony.  You open the sliding glass doors and then you are blocked by a decorative wrought iron waist high barrier.  But it is so hot and while docked, mosquitoes, most didn't use this.  Unless there was something unusual to see.  Here is something to think about.  Read the fine print of any tour company and they reserve the right to change itineraries.  On this cruise, they often do.  Here's why…India has an agreement with Bangladesh that every ten days the waters of the Ganges is diverted from India into flowing toward Bangladesh.  The river becomes very shallow.  We missed two ports of call.  One night, we also grounded.  But Ajay and the guides have been there done that, and they had in place other sites and temples to see.  What did we miss?  I don't know.  I was satisfied with the way they handled everything. Tipping at the end of the cruise is encouraged.  They give you recommended amounts.  The crew is so very aware of service.  On the last day, when most of the other passengers had disembarked for their trips onward or home, my sister and I had 9:50 pm flights.  Because of the tour part coming first, the ship doesn't embark on the same day it disembarks.  So, my sister and I were allowed to stay on the ship until 4 pm, therefore, no day room at a hotel is required.  They served us lunch in our room with a bottle of wine.  We took a nap and then off we went.  Oh, when they say local spirits are included, it simply means inexpensive Indian or American or European wines and, for me, Stoli's vodka.  Works for me. And, if you stop at duty free on your way, you can bring the liquor on board. Just don't plonk the bottle into the middle of the table while on deck.  The staff, like all good crew, remembers your drink of choice.  The food was very good.  Breakfast and lunch were buffets but you did have the option of ordering off of a menu.  Dinner was by menu.  It was a mixture of Indian and western style foods.  If you wanted the chef to make the food spicier, he would do so just for you.  He was quite proud of his Italian pasta dishes.  He asked us if we would share recipes with him.
*Cultural experience on the cruise…They try very hard to give you a great cultural experience.  The male crew hennaed our hands/feet,they taught us how to tie saris, they tied scarves on the men for turbans, cooking demonstrations, lectures, movies, cultural dances, tribesmen and their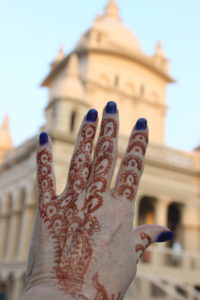 singing/playing of instruments, on deck bar-b-que followed by lighted balloons set into the sky and candles set out on a rope on the Ganges.  Magical.  But the most fun was the party for the Festival of Colors.  I'll get into that in part 2…
Pics 1,2 (and the Taj view) 3…Oberoi Hotels…pics 4 and 5 the Ganges Voyager II, and finally my hand with henna.