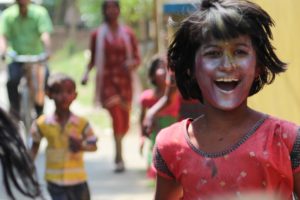 Many people looked strangely at me when I said I was going to India.   So, let's address what my sister and I concluded were the 3 elephants in the room.  The three things that disturbed us the most.  First is the poverty.  With 1.3 billion people, 22-24% live below what the government considers the poverty level or some 280 million people.  According to the Indian government that means they have LESS THAN $1.25 a day per person to spend.  As a traveler from a 1st world country, it is hard to look at.  Secondly is the amount of trash.  This is an honest statement.  You could drive along and see a huge pile of trash.  On the right side you'd see children digging through the trash, on the left a few feral dogs also digging through the trash and in the middle?  A Brahma bull is sniffing through the trash.  The third elephant in the room is the amount of feral dogs many in some state of illness or distress.  My sister and I got to the point that we avoided looking at them. What can I say.  Americans are pet owners.
Then why would you recommend going to India?  My sister and I, as well as many of our Uniworld Cruise companions,  thought it was the best cultural experience we'd ever had.  Keep in mind that the people on this trip weren't first time travelers to an exotic locale.  Everyone was extremely well traveled. Most did the 13 day cruise/tour and then spent another 3 days visiting Veranasi or heading south to seek tigers.  I've never spent much time contemplating the Hindu religion.  Yes, I knew it existed but just never focused on it.  I learned that 80% of India is Hindu and about 14% Muslim.  The rest is a mix.  Our guide joked that there are 366 festivals a year.  I could be wrong but I went on line and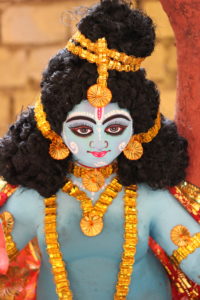 I counted 26.  The way they depict their gods is an anathema particularly to Christians and Muslims.  Thou shalt hold no other Gods before me.  From what I can garner on the net, there are 33.  But, no matter.  It makes their culture fascinating.  We were lucky to be there during Holi, the Festival of Colors,  the Hindu celebration of spring and of love.  Little did we know that we would be participants in this celebration.  Our tour facilitator, Ajay, simply told us there would be a party on deck and that they would provide us with white tee shirts.  Be there at 1 pm he said.  We show up and the crew immediately starts throwing colored powder at us all the while playing Bollywood music.  And the dancing began…We are anchored next to Mayapur, the location of the largest Hindu temple in the world.  Also the site of ISCKON, the International Society for Krishna Consciousness.  Hare Krishnas, for those of us from the 60's and 70's, know them from seeing them  at airports handing out flowers and asking for donations.  There were thousands and thousands of people at the site.  Hundreds were cleansing themselves in the sacred Ganges.  Food sellers everywhere with delicious aromas.  But, unless you have a stomach that is used to their way of preparing foods, do not eat them.  Colors, colors and more colors.  There wasn't a single person not adorned with some vibrant colors.  Now, with the locals, they would throw the powder on each other or, with many of the young men, they would carefully adorn themselves.  With us, they'd slowly walk up, dip a finger in the powder and decorate our faces.  Here is the beauty of this Uniworld Cruise.  After we saw all of the big sites, the Taj Mahal, Memorial to Victoria, shrines, temples, mosques, city buildings, it was great to get to the solitude of the boat and sail on the Ganges and see the villages.  We would take motorized rickshaws to whatever site we were going to see.  Word would spread that there were, I don't know what to call us, westerners, blondes, Americans, Canadians whatever, were coming, and the kids would pour out of the houses to run after us yelling "hi, hi, hi!"  Selfie, selfie, selfie!  It was a remarkable experience.  While docked in one village, we saw a cricket match.  We went through a large farmers' market.  We saw first hand how saris were loomed.
Speaking of saris…the women are like peacocks with the colors of their saris, the henna on their hands and the beautiful chandelier nose rings.  I was enchanted with the colors.
From north America, India is not an easy destination to get to.  My flight from Atlanta to New Delhi, with layovers, was 24 hours.  Coming back from Kolkata to Mumbai to Amsterdam to Atlanta, travel time 28 hours.  Cost, round trip is around $1500.  On KLM I upgraded to economy comfort for $75.  That was from Amsterdam to New Delhi.  I ended up having a row to myself.  Yes sir!  Coming back, my sister and I upgraded to premium economy on Jet Airways for $150 each.  The flight from Mumbai to Amsterdam was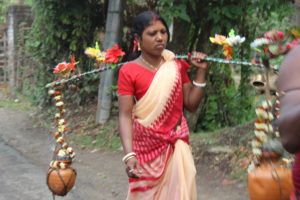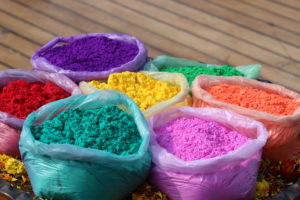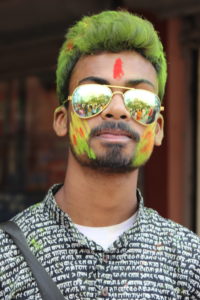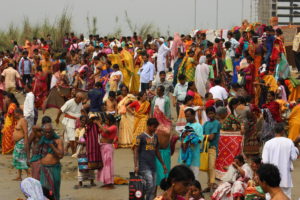 9 1/2 hrs. I was in coach. It was a new plane and it held, get this, 410 passengers.  I was at the front of coach and just kept seeing this long row of people coming and coming and coming.  Since it was a new plane, they had those little movable flaps to allow you to rest your head.  With a sleeping pill, it wasn't so bad.  But when I got on the Delta flight back home, I was READY to be back home.  17 days from my hubby is way too long.  Go to India?  Best cultural experience of my life. Doing it on Uniworld Cruises?  You betcha!