I was curious as to what life would be like after my husband retired. No. That statement is not true. I was scared as hell as to what life would be like. Recently, Brit Hume of Fox News retired. When asked what be planned to do he said, "The 3 G's. God, granddaughters and golf." He will continue to appear occasionally as a special analyst. In an article in the WSJ a few years ago, they interviewed several top executives and top athletes who had recently retired about how they had planned for their retirements. Nolan Ryan, that great strike out pitcher, had planned for retirement by investing in ranches, banks and getting involved in farm teams for major league baseball. But, he said that nothing had prepared him for the first spring training after his retirement. He said he missed more than anything the camaraderie of the team locker room and the thrill of a new season.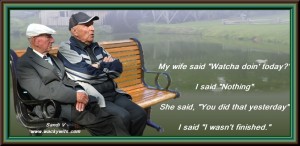 Read more…

Many of my girlfriends' husbands had retired before mine. And, I had heard horror stories. "He follows me around all day asking what do we do now, what do we do now." "When I'm on the phone talking to a girlfriend he asks, who are you talking to, why are you talking so long. Pay some attention to me." " As I'm leaving to go out, it's where are you going, how long will you be gone, are you sure you need to do that." Oh boy. All I can say is that I saw my future. And, the future became reality. So, here are some tips on how to get your husband prepared for retirement. Before I begin my list, I would say the main ingredient to retirement happiness is to make sure you are financially prepared for it. Most of the things I list will cost some money.
OK, here goes:
Make sure he has a hobby or several, for that matter. Most men work long and hard and don't have time to cultivate a hobby. But this is an important ingredient in retirement happiness. We joined a country club (believe me there are some real deals out there to join country clubs). And with that, we worked hard at our golf games. At a country club you can get involved in golf, tennis, bridge, charity work. Golf is a great hobby because it gets them out of the house for 4-5-6 hours. Plus, they go on golf trips with the buddies which can mean 3-4 days to yourself! Other men have started new businesses, taken up carpentry. For minds that were once so active with work, it would be a shame to stop using theirs. A mind is a terrible thing to waste.
As a direct correlation to the above, make sure they have a band of buddies to do the above with. Again, many men who work long hours and spend many traveling, most of their social circle revolves around business associates or their wife's circle of friends. My husband quickly joined a Saturday morning golf group and that morphed into playing 2 other times during the week. I remember about a year after he retired I asked him what he wanted to do for lunch. He said he was going out with Bob to get a couple of slices. It was a moment of pure, unadulterated bliss. We go on couples' golf trips, have them over for dinner, and go to movies. For this Christmas I gave my husband 10 sessions at Paintball Atlanta. He and his buddies can't wait to go. I don't know how long it has been since any of them have shot a gun, but I would love to get that on camera!
Stay physically fit! Join a gym or get a personal trainer, bike, hike, swim, ski. Most people don't retire until after 62 and that is when the body starts to sag and drag and lose flexibility and muscle. My husband and I both go to a personal trainer, and we were both astonished as to how much more flexibility we gained as a result of our training.
You, as the spouse, need to be very proactive in making sure that your husband tries some of the above. It is way too easy for them to say "that is not for me". Well, that could be true. But I don't think my husband ever envisioned going paint balling with a group of buddies.
It is very easy for them to fall into a "getting old" trap. My husband went from wearing suits, to business casual to retirement which led to old jeans, stained shirts and ripped sweat pants. Yes, it's comfortable but not quite what you should wear to the mall. I finally had to tell my husband that he was letting himself "look old" and it had to stop. So, we went out and bought some new clothes (great deals out there now, aren't there). He still wears the stained sweat shirts but not to Publix.
And lastly, my husband has a group of friends with which he exchanges novels. My husband was never much of a reader, just didn't have the time. But I shoved a few really good books in his face and now he is an avid reader. He loves anything by Vince Flynn, Lee Child, Nelsen Demille, James Patterson, Brian Haig. Mostly murder mystery, espionage, get the terrorist kind of books. That works for me.
So, there is no more "what do we do now" crap. Retirement is a big change for everyone. For the wife, who once might have had control of running the house, there is now someone questioning your every move. For the most part, you've had your own schedules and own agendas. Now, they are co-mingled. With the job I had, I had flexible hours so if someone needed to stay at home to wait for a repairman, it was usually me. We take such joy sometimes with small things. And that small thing was leaving my newly retired husband at home waiting for a repairman as I walked out the door! It's the small things in life….Happy retirement!
http://www.blogcatalog.com/directory/society/politics/conservative/