I first visited Paris in 1978 as a chaperon to 8 high school kids on a "if it's Tuesday it must be Belgium" type of trip. What do I remember about that trip after all these years? One evening I saw a priest peeing in the street and that same night, a couple in an apartment across the street from our 2 star hotel, was making love with the window wide open and with the lights on. The four boys in my group were the ones who saw them first and came running down to my room to make sure I saw what was going on. Trying to get them to stop watching was like trying to keep a male lion away from a female lion in heat. Ah the French, so uninhibited. Over the years, I've had the good fortune to have returned to Paris a number of times. The one I want to tell you about is more of a travelogue story rather than a "oh my God, you won't believe what happened" kind of story. Our daughter had just spent 3 months studying Spanish at the University of Seville
(to say "studying" may be stretching it. I think studying partying was more like it). Since my husband and I hadn't been to Europe in a couple of years, we decided we would meet her in Paris and then she could fly home with us. Well, the best laid plans…We had chosen the weekend of the French Open and there were few hotels available. We had two choices, either the Ritz Carlton at $800 a night or the 2 star Hotel Des Deux Avenues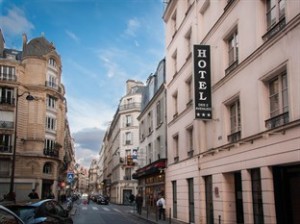 at $120 a night. Read more…
My daughter had just spent 3 months living in a small apartment and on weekends had hopped from hostel to hostel, so she could have cared less if the hotel was two star. Of course her dad and I did not want to pay $800 smackers a night for 4 nights. So, the Hotel Deux it was. Ah the Hotel Deux, such fond memories…not! Our first room (note, "first room") was on the second floor facing the street. There was a disco 2 buildings down. The hotel, natch, was not air conditioned. So, at 2am, we hear the revelers leaving the disco and drunkenly laughing and yelling as they walked. Then at 4am, here come the street cleaning trucks. By this time I'm punch drunk (just like Obama) and laughing my head off. The next day we asked the manager to move us. He moved us to a room that overlooked an overgrown courtyard and on the other side of the courtyard, the back of a Chinese restaurant. All day and all night the smells and sounds of a Chinese restaurant. But that was better than the street sweepers. The good news? And there was good news. The hotel was on the same street, Rue Poncelet, that has one of the best street markets in all of Paris. If a guide book is worth its salt, it will mention the street market on Rue Poncelet.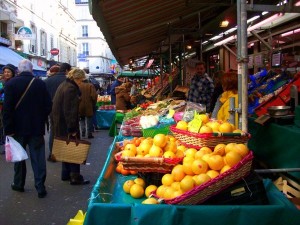 Every morning we had freshly baked croissants, steaming cups of coffee and mouthwatering fresh fruit just brought in from the farms. We would buy sandwiches made of French bread (what else?) and have a little glass of wine and watch the locals buy their groceries. Women in designer clothes with designer bags and designer dogs mixed in with little old ladies with head scarves and wearing baggy dresses and plastic shoes. It was fun. The rest of the day we would sight see. Now remember, we are in France and all of the government employees are unionized. My daughter had been dying to go to the Louvre. Nope. Not this trip. The museum workers went on strike. And just after we left, the rail workers went on strike. Welcome to France. The Hotel Des Deux was 3 blocks from the Arch de Triumph and therefore, only a few block from the Champs Elysees. When traveling, the bitchy gourmet (of course at that time I wasn't the bitchy gourmet) always has to find something to do with cooking. So, I go through a number of guide books and one establishment kept popping up, E. Dehillerin. This cookware store is, supposedly, where Julia Child and Jacques Pepin have purchased their cookware. Now that was like waving a red flag in front of a bull (although bulls are color blind). I HAD to go to E. Dehillerin!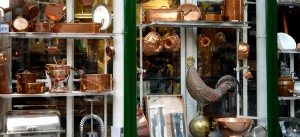 If you were just casually walking by the store, you would miss it. It is a totally no-frills store, that has pretty much stayed the same since it opened in 1820. The store is not far from the Louvre in the 1st arrondissement. Another thing that intrigued me about the store…Thomas Harris, the writer behind the Hannibal Lector series, used E. Dehillerin as the place where Hannibal bought his pots to cook with and to cook people! It is the kind of place you might see someone like Hannibal walking through. The aisles are very narrow with shelves from floor to ceiling chock full of every kind of cooking utensil you can think of. And then there are some that you have absolutely no idea what they might be used for. And when you go down to the basement floor…there are those huge copper pots Hannibal could cook people in! I swear they are that big! After that first visit, I was hooked. I've bought copper pots, a chinois, a ricer, and decorative stainless steel skewers. At first I had everything shipped, but then the dollar started to drop against the EU and then all I could afford to buy were things like the skewers. "Oh, those skewers are so adorable! Where did you get them?" "Oh, from a little store in Paris". Snob! So, my suggestion, go to Paris, buy some plates and utensils at E. Dehillerin, then go to the market on Rue Poncelet, buy some food to put on the plates, have a picnic and then take your goodies home. You've combined two of the best experiences Paris has to offer. And when you get home, cook some "freedom" fries.
http://www.blogcatalog.com/directory/society/politics/conservative/