Have you ever heard of the movie or broadway musical The Best Little Whore House in Texas? Well, that little brothel was about 25 miles from my hometown. It was located in a German and Czech community named La Grange. I will digress. One of ZZ Tops best songs EVER is La Grange. I tried to find an original video but no go, so here it is live from 2009. Leaves a little bit to be desired but still one of the best guitar songs ever http://www.youtube.com/watch?v=cnMFOeEPUks Love the outfits. Anyway. La Grange loved the "Chicken Ranch" as it was called. The "madam" donated tons of money to the city and of course, took care of anybody who needed, ahemm, taking care of. College coaches would place bets that if their team won the losing team would have to pay for the winning team's "fun". Father's took their sons there to "initiate" them. During the 1950s the ranch reached its sixteen-girl maximum. On some weekends there was a line at the door, made of students and soldiers from the nearby military bases. One base even supplied transportation via helicopter to the ranch. A visit to the Chicken Ranch also became part of freshman initiation at Texas A and M University. But there was a TV news crusader by the name of Marvin Zindler, from Houston, whose name shall live in infamy. He got the then govenor of Texas, Dolph Briscoe, to shut it down. That was 1973. Then it became famous as the Dolly Parton and Burt Renoylds movie, The Best Little Whorehouse in Texas. La Grange is still a lovely German Czech community known for its kolaches, sausage and bar-b-que. It's on the highway from Houston to Austin. The Fayette County Fair is held there and if you want some great food and country music, you can' t beat it.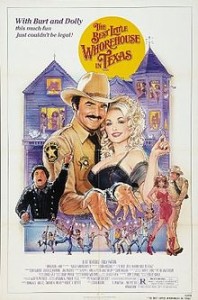 But, Hairball, why have brothels come a long way? 'Splain please. Well, there is this article in the UK Telegraph about the use of defibrillators by prostitutes in Switzerland. Wait an minute. You're from a small town in Texas and you're talking about Switzerland prostitutes and defibrillators? Well, this blog IS about satisfying your curiosity, is it not? So the story brings to mind the turth or myth about Vice President Nelson Rockefeller. There's a golf term affiliated with the death of the VP. When you putt and the ball circles the hole and then just barely falls in, it is said to have done a Rockefeller or "died in the hole". Well, apparently, that is what happened to the VP. Do I need to point it out to you? Therefore, the need for the following:
http://www.telegraph.co.uk/news/newstopics/howaboutthat/7259636/Swiss-prostitutes-trained-to-use-defibrillators-in-brothels-to-prevent-clients-dying.html
The last time I saw ZZ Top was in 2008, and they are looking a little longer in the tooth and definitely need to dye those beards, but they still rock….One of my favorites, in addition to La Grange, is Pearl Necklace. Today, it is nothing, but read with vigilance…
She was really bombed,
And I was really blown away,
Until I asked her what she wanted,
And this is what she had to say:
A pearl necklace.
She wanna pearl necklace.
She wanna pearl necklace.
P.S. 1/22/14-Today I read that Edna Milton Chadwell, the owner of the Chicken Ranch died in Dec. of 2012 at the age of 84. She had told her nephew that nothing in the movie was real except for the fact there was a whore house…
http://www.blogcatalog.com/directory/society/politics/conservative/