It's been 23 years since we've seen Rusty and Barbara Sabich, the husband and wife in the wildly popular novel, Presumed Innocent, written by Scott Turow. Presumed Innocent was also a wildly popular movie starring Harrison Ford (playing Rusty Sabich, chief deputy prosecutor) and Greta Scacchi (playing Carolyn Polhemus, a sex pot assistant). I expressly remember the first time "they did it". Whew, was that some scene. Yes, that's right. Rusty was being a bad boy and began having an affair with Carolyn. That is until she is raped and murdered. Rusty is accused of the deed and stands trial, only to be exonerated. Or, was he?
Presumed Innocent was really the first of the courtroom drama genre novels. Unlike many of the other authors who write these types of dramas, Turow still has his hand in the legal business as a defense attorney representing white collar defendants. He has written 11 other books since Presumed Innocent. An author knows how much blood, sweat and tears he/she has put into a book and may wonder whether they will be able to replicate that success in a sequel. Innocent doesn't have the same level was suspense that Presumed Innocent does but it is one hell of a read. It's a great courtroom drama for adults. Read more…
From the last time we saw Rusty, I'm afraid he hasn't learned a thing. This time he just has a bigger and better job: Chief Judge of the State Appellate Court. Rusty is now approaching 60 and still living with his wife Barbara, who is still mentally challenged. She's now been diagnosed as bi-polar and assorted other maladies and is on 60 or so medications. So, what's a guy like Rusty to do? Why have an affair with a much younger woman. Again. And what happens? Barbara ends up dead. Did she die of natural causes or was it…murder…by Rusty, who still has the Polhemus murder hanging over his head. Some old characters come back to haunt Rusty from his first trial, particularly the assistant prosecuting attorney, Tommy Molto, who is now acting PA. Who would love to get his hooks into Rusty because he knows, he just knows, Rusty killed Carolyn and if he's killed once, he can kill again. So, he brings Rusty to trial for the murder of his wife, Barbara.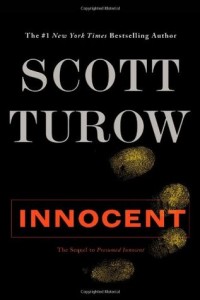 The novel is told from several points of view, at times from Rusty or Tommy or from two new characters, his young girlfriend, Anna, and his now grown son, Nat. This adds depth to their characterizations particularly for the new characters. We know much about Rusty and Tommy from Presumed Innocent but not all. The thing that bothered me though was Turow switches from the past to the present and back. It was difficult to keep track of in what year something was happening. You can tell Turow knows his stuff because the legal wrangling in the court is riveting and but it also shows how mundane even the most "show case" trial can be.
In Innocent, the killer of Carolyn Polhemus is never revealed. Although for those of us in the know, we know. Turow says that he wanted this novel to be a stand alone and it is. But all it will make you do is want to run out and get Presumed Innocent or watch it On Demand. In both novels there are two abiding themes: people make lousy choices especially in relationships and even though you may evade "legal" punishment, sometimes just living your life as a lie is far worse. The ending to this drama is not as taut as Presumed Innocent and that is probably why most reviewers are giving it 3 ½ stars out of 5 instead of the 4 ½ of the previous drama. I would give it 4.
http://www.blogcatalog.com/directory/society/politics/conservative/