I've always had an offbeat sense of humor. I loved Monty Python and their Flying Circus, The Holy Grail, Life of Brian and of course, Spamalot (French Soldier: I don't want to talk to you no more, you empty headed animal food trough wiper. I fart in your general direction. Your mother was a hamster and your father smelt of elderberries.) I loved it. I'm also a fan of Dave Barry and Christopher Moore (Chris Moore is definitely not for everyone. He is VERY politically incorrect). So, in keeping with my sense of humor, a long time ago I picked up a book by Carl Hiaasen. It was Tourist Season, his first book. Here is a synopsis of the book off of Hiaasen's web page: "The only trace of the first victim was his Shriner's fez washed up on the Miami Beach. The second victim, the head of the city's chamber of commerce, was found dead with a toy rubber alligator lodged in his throat. And that was just the beginning… Now Brian Keyes, reporter turned private eye, must move from muckraking to rooting out murder, in a caper that will mix football players, politicians, and police with a group of fanatics and a very hungry crocodile." Now, who could not read something with that type of description?
Hiaasen has, for most of his career, been an editorial writer for the Miami Herald. So, his focus, both in his editorial writing and in his novels, is South Florida. Now, if you've ever spent any time in south Florida, you know it is populated with all types of miscreants, crooked politicians, crooked real-estate agents and just the plain weird. Welcome to the wild, weird and whacked out world of Carl Hiaasen. Read more…

My book club just finished reading Sick Puppy. "When Palmer Stoat first noticed a black pick up truck following him on the highway, he fears his precious Range Rover is about to be carjacked. But Twilly Spree, the man tailing Stoat, has vengeance, not sport-utility vehicles, on his mind. Idealistic, independently wealthy and pathologically short-tempered, Twilly has dedicated himself to saving Florida's wilderness from runaway destruction." The book's characters are fanatical environmentalists, a black lab that has eaten glass eyeballs from stuffed animals (therefore the title), a one eyed ex-governor who lives in the everglades, an ex-drug dealer/developer who has a penchant for Barbie dolls, and a very old rhino. We discussed this novel at our annual summer book club meeting where our husbands are invited to participate and we had a blast trying to figure out what Hollywood personality would star in the movie version. The main character, Twilly, would be Luke Wilson, Palmer Stoat, the lobbyist, Alec Baldwin, and Skink, the one eyed ex-governor, Jeff Bridges. It would be directed by the Coen brothers.
Now, that would be something to see. Hiaasen's most famous novel, Striptease,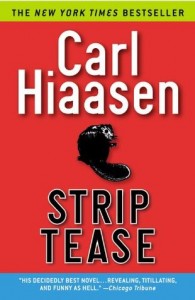 was made into a movie which starred Demi Moore and Burt Reynolds. I think the movie was made more popular because of the "buffness" of Ms. Moore's body. A quote from Mr. Hiaasen's web page: "Hiaasen continues to insist that the scene featuring Burt Reynolds slathered from his neck to his toes with Vaseline is one of the high points in modern American cinema."Anyway, Hiaasen has published 11 novels with another one coming out July 27 entitled Star Island (I've already pre-ordered it!) He also has published three children's books, Hoot, Flush and Scat. They really are just miniature versions of his adult books but without the sometimes risqué language and sex. Hoot was awarded the prestigious Newberry Honor and made into a movie.
Hiaasen did leave the weird, wild and whacky world of south Florida for the weird, whacky world of golf in his true life story, Downhill Lie: A Hacker's Return to a Ruinous Sport. So, I'll leave you with this synopsis: "Ever wonder how to retrieve a sunken golf cart from a snake-infested lake? Or which club in your bag is best suited for combat against a horde of rats? If these and other sporting questions are gnawing at you, The Downhill Lie, Carl Hiaasen's hilarious confessional about returning to the fairways after a thirty-two-year absence, is definitely the book for you."
When you read Hiaasen, realize that his novels are addictive and YOU WILL laugh out loud. Great, great beach reading!
http://www.blogcatalog.com/directory/society/politics/conservative/