I was at the Tate Museum of Modern Art and had left to get the tube back to the hotel. The tube doors did not open and an announcement came over the loud speakers to say that everyone should "vacate the area immediately. " The IRA had put 9 bombs on the rail tracks. I later heard that the IRA had a code they gave the police so that the police knew it was a credible IRA threat. The IRA had effectively shut down the whole city. President Clinton brokered a peace (somewhat) between the IRA and Great Britain and now the emphasis is on radical Islam. You can not travel anywhere within London where there is not a camera watching you. Just look. Corner after corner after corner. The other change is this: New York City is a city of immigrants. But mostly immigrants that have been here for a long time. Not all, but most. London is a city of new immigrants that do not wish to assimilate. Britain allowed cultural diversity to lead to non- assimilation. And they are now dealing with these very tough issues.
I've been going to London since 1977. While I was teaching at Round Rock HS in Texas, I used to sponsor students, and some adults also came along, on "if it's Tuesday it must be Belgium" types of trips. What brings me to reminisce is that my daughter has now moved there. Things have changed in London and changed a great deal. The biggest change (and pardon the pun) is that you don't get nearly as much "change" when you pay for something. The US dollar against the British pound sucks. My daughter could really elaborate about the expenses but just for me, paying 7 pounds or $11 US for a tube ride to go three stops is outrageous. When I first went in the late '70's, we were flying high with the dollar. The other big change is that back in the '70's everyone was afraid of the Irish Republican Army. I was at the British Museum of History and saw "bobbies" using long sticks with mirrors on the bottom so that they could look underneath the chaises of the cars for bombs. When the Queen Mum turned 100 in July of 2000 (the one in The King's Speech), the IRA was still at work. Read more…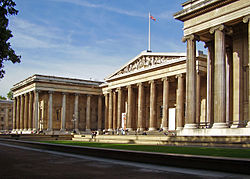 Two other memories for me: I was in London a week before Diana wed Charles and a week after Princess Diana was killed in that tragic car accident. I will never forget the pre-wedding Charles and Diana memorabilia that encompassed every aspect of life, plates, glasses, beer mugs, banners, ashtrays, all with their smiling faces. Then the week after Diana died: the flowers, candles, teddy bears etc that were strewn in front of Buckingham Palace and Kensington Palace. Candles candles everywhere.
So, flash forward to this past week. We're in London visiting our daughter and it is once again Royal wedding time. The city is starting to put up the bunting and there are, once again, the smiling faces of the Royal and future Royal on plates, mugs, glasses, ashtrays etc. But this time the tone seems muted. The Commonwealth is in financial straits, people are out of work, this is the future, future king and the Brits have more on their minds. One cabbie said they were having a bar-b-que but most of the people I spoke with said they shouldn't be spending all that money when the regular folk are having a hard time of it. Only 48% of the British people said they "cared".
Food. London has joined the ranks of the other culinary meccas as a "foodie" destination. There was an article the other day in the WSJ about chefs from New York opening restaurants in London. Of course, London has always had wonderful Indian food, but back in the '70's, the food was what most "foodies" thought…bland. Yes, there is still bangers and mash and kidney pie, but we went to a fabulous outdoor market, The Borough Market, under London Bridge, and it was UNBELIEVABLE. I will post along side this blog pics with the yummy oysters, clams, cheeses cheeses cheeses, paella, olives, ahhhhh, all too good…Our daughter has taken us to some very good restaurants. One I want to mention, not because the food was so outstanding, but because their bread presentation was outstanding. We went to Gaucho, in Piccadilly, for steak. But the star was the bread served with chimichurri sauce AND fresh ground pepper WITH freshly ground sea salt. It was incredible….
And one of my favorite places, the Dungeons of London, which I visited for the first time in the 70's is now a "Disney" type of attraction. It used to be old and cheesy with cobwebs and fake moans and groans and creaking torture racks. Now it's all 3D and sound effects. Booorrrinnng. We did revisit the "War Rooms" underneath Whitehall which now has a very extended Winston Churchill Museum. It focuses on how the leaders of Britain, during WWII, lived and worked during the bombing of London by the Nazis. If you're into WWII history, it is very fascinating.
Our duaghter took us to a "new" property that is actually an "old" property. It's the St. Pancras Hotel. It is at the hub of the EuroStar rail. Check out their web site and learn about this fine "old" hotel. http://www.marriott.com/hotels/travel/lonpr-st-pancras-renaissance-london-hotel/
And, finally, do the "Original Double Decker Bus Tour" rather than the "Big Bus Tour". More busses and easier aceess. We decided not to get off as we passed a 5 hour wait to Madame Tussaud's. The round trip for one day was 80 pounds for the three of us…that's $133…
http://www.blogcatalog.com/directory/society/politics/conservative/