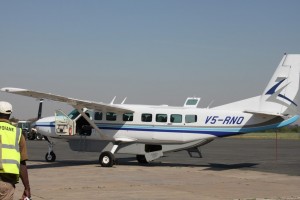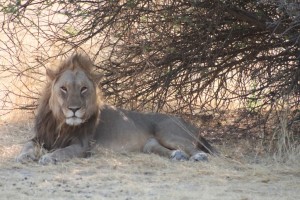 We once again head to the gravel runway to catch our Caravan plane to head to Etosha National Park. By the way, depending on the airline you're using or the country in which you're flying, there are strict rules on the weight of luggage and they must be soft sided, like duffel bags. When we did the Botswana and Zimbabwe trip, we were limited to 25 pounds each and that included all carry ons and camera gear. This time we had a little better weight limit of 44 pounds each. Read more…
The beauty of the lodges is that they have their own laundry services. Leave your stuff out in the morning and by evening it is freshly washed and ironed. You do not take nice stuff with you to wear. Khakis and tee shirts, sweat shirts, socks and undies. We took one week's worth of clothing and then had things cleaned at the next lodge. Curiously, in Zambia the cleaning women would not clean women's underwear. I think I finally figured out why. OK. Back to Namibia and Etosha. Etosha is located in the northern part of Namibia and covers approximately 14,000 miles. We stayed at a great lodge, Ongava, which is located in a private game reserve. They have three sets of accommodations: Little Ongava with a butler, private Land Rover and private guide (only three suites), Ongava Lodge (where we stayed) and Tented Ongava. There was a watering hole right in front of the lodge and while eating, you could look out and watch oryx, kudo, giraffe, gazelle drinking. We didn't see this but one visitor said that the night before we got there (you hate stories like this because you MISSED IT!) a lioness came to drink with her two cubs. Now Ongava might not be the kind of place purists like. It's a fenced game reserve. So, one way or another, you're going to see game. On our first night's game run, we immediately saw male kudo, giraffe, waterbuck, red hartebeest and one young male lion. Also on our first night we met our "game" drive companions. Here's the spot where I wish I could put in music of impending doom but… enter stage right, the Belgium ladies and Gunther and Hanalore, the German couple. They are all older than my husband and I and so since getting in the back of the Land Rover is elevated and harder to get into, so we look at each other and say, "we'll take the back seats". No, no, no, no! We are promptly told by the BLs that they have dibs on the back seat. Ok then. As we begin the drive, I see an elephant and say, "Oh, there's an elephant!" and I get a smack on the back of my head with an "auff, you speak too loudly"! I was too stunned to respond. All I said was, "sorry". Then, we see something else and the other BL would say, "Auff! It is too far for a picture. Drive!" This was going to be loads of fun, right? The next day, Gunther is about 15 minutes late because he was buying something in the store. One of the BLs tells him he's late. Well, I made the mistake of opening my mouth and started to tell them the Vince Lombardy rule of time. If the meeting is at 9am and you're not there by 8:50, you're late. Gunther looks at me and says rather vociferously, "Auff, we care NOTHING about AMERICAN FOOTBALL!" I guess he didn't get my point. Off we go for another pleasant day looking for animals. I spy a secretary bird (insert joke here). I've seen them in Kenya but my husband has never seen one. I ask the driver to stop and the BL says (repeat from above). I slowly turn around and say to her, "The bird is not too far away, my husband has never seen a secretary bird, has no idea what one is, and we're going to take a minute so we can get an explanation." She didn't say a word. We then proceed and see a big bull elephant about 50 yards from us getting ready to walk in front of us. I turn around and look at her and I say, (repeat what she has previously said). She looks at me and says, "I said nothing!" We stop for our sun downer and they, the BLs and the Germans, proceed to tell us how stupid Americans are for not taking 6 week vacations.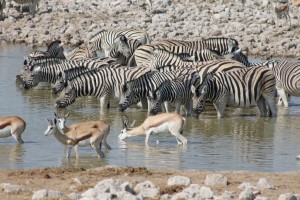 Etosha is a national park known for its watering holes. They are dotted around the park. Now, again, a purist would say this is horse hockey. I must admit that it did have the aura of a drive through a game park. The animals are so used to seeing hordes of people that they simply ignore you. Also, Etosha lets in tour buses. When we first saw a pride of lion almost immediately it was surrounded and a traffic jam ensued. We thought, oh boy, if this is the way it's going to be, we're not going to be happy. But our guide soon got us away from the crowds and we saw plenty of game up close and personal. The last night of our stay was the highlight at Ongava. We went on a nature hike with our guide and then we had our sun downer in a "blind" or "hide" right by the water hole in front of the lodge. We waited for 2 hours for a white mother rhino and her baby. Just when we're about to give up, here they come. We were about 30 feet from them.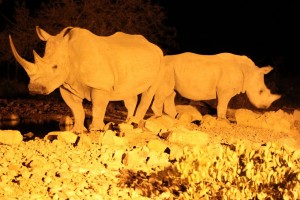 Ongava and Etosha are both known for their white and black rhinos and we were fortunate to have seen both. Our flight the next day, via another Caravan leaves at 10:40 and we fly to Windhoek to connect to Joberg for an overnight and then on to Zambia. I see the BLs before we leave and they wish us a pleasant trip and the "Auff, it is too far lady" winks at me and says she and her friend have the guide all too themselves that day and she is going to tell him EXACTLY what to do. I say goodbye to our guide and wish him luck with the two "lovely" ladies. He just rolls his eyes. Next up…Zambia!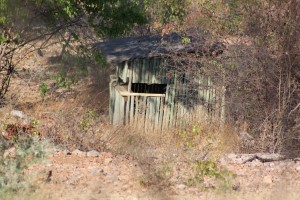 Our "blind" or "hide" for our sun downer and rhinos
http://www.blogcatalog.com/directory/society/politics/conservative/