Somewhere along the way, maybe it was my husband spelling it out for me, I discovered I did not have the "organization" gene. Not anal enough, I guess. I don't mind going hunting for a pair of flip flops that have hidden themselves under the bed. Or better yet for an excuse, looking for one the cat hid during hide and seek. In reference to the above where my husband spells out my lack of neatness, I graciously let him know about a few of his idiosyncrasies. But this isn't about his lack of patience or his abundance of macho, it's about me and what I've been trying to do to overcome my A: lack of neatness gene B: laziness C: don't give a rip attitude. I blame it on A. Read more…
But then I look at my older sister who has an overload of the neatness/organization gene. As the old saying goes, was I behind the door when God handed it out? I will never be a Martha Stewart or a subscriber to Real Simple Magazine. In the last two houses in which we've lived, we had them both built and therefore, had added in plenty of storage space. But 6 years ago, we moved into an older home that had/has very little storage space. What to do? Well, remodel is one answer, which we extensively did. But coming up with creative solutions for certain objects has been my objective these last few years. When we first looked at the house we thought we might buy, I noticed there wasn't a pantry. Spoiled brat that I am, I needed a large pantry. The house had a mud room. Hmmm. A mud room. Look at what it is now: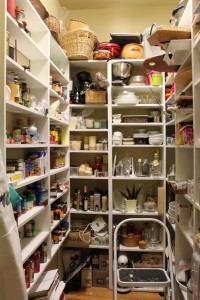 The left side is narrow for canned goods and other food stuffs, while the right side is about a foot and a half deep and used more as a butler's pantry. Facing that step stool you see there is a wall but in back of it is a door that has been sealed from the inside but seen as a door from the outside.
I also like purses. Not so much a shoe person but a purse person. I know this idea has been done before but I'll claim it as my own because at the time, I hadn't realized it had been done before. Like most inventions. And that is using a coat stand to hang purses and keep hats from getting squished. I used to have this in the closet but our closet is small. Well, it used to be but one story at a time. I took off a bunch of purses I rarely used and put them in plastic, sealed containers. Speaking of which…I am in love and always have been with The Container Store. Yes, I know. For the lacking in organization gene, it's sort of like an oxymoron to even walk in the place. But, they give me such great ideas…but do I follow through? Yes. Because they're not cheap. Anyway, here is a picture of my purse/hat stand: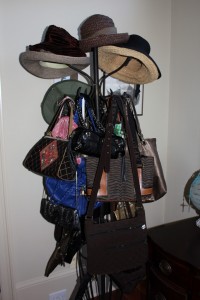 So, on to the closet. Like with every good realtor, they tell the seller to de-clutter their closet. But we of walk in closets know closet space. This house had a small, for the south anyway, a small walk in. Some friends of ours had decided to forgo hiring a closet planner and had done closets to go on the Internet or something like that. My husband, who was raised in an apartment building in NYC that had a super, decided that, hey, I can do this. The positive of the experiment was that the ceilings were 10 feet so that we could get in three levels of clothing racks. The negative, the online planner forgot to take into account the huge crown molding southern houses have (even though we included the dimensions). But after much cursing, blackened finger nails and sore hands, we now have a suitable, albeit, stand on a foot stool to get to the third layer closet. But I still needed more room! I was, yes, I was stuffing stuff under the space beneath my clothes. I have three long haired cats. Get the picture. Even for me this had to end. So, I took the purse rack out of the closet. I wanted to go to Ballards Outlet to see if they had something I could use (hey, they have great stuff for the fixer up-per). But my hubby said, Go to Home Depot. So I did. And what did I buy? Storage units by…Martha Stewart. See below: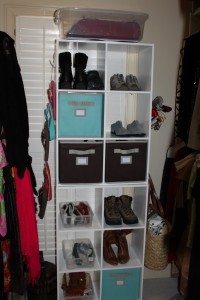 It has always been an irritant to me for a builder to put the closet in a place where there needs to be windows (to match the outer decor). So, here I have my Martha Stewart cubby holes and little linen "like" drawers. On the left side, from The Container Store, I bought one of those Velcro hooks and they had, get this, a do-dah to hang your flip flops. Too cool. I also bought two tie racks to hang my scarves and on the right two Velcro hooks for large bags and hangers. Voila! More room!
Our entry way from our garage to our kitchen was very small. The previous owners had used one whole side of the kitchen area for a desk and computer. I don't think so. We turned that into another clean up area with a third dishwasher and sink and disposal unit. So? What to do with keys, glasses, etc? After buying an antique plate rack at Scott's Antique Market (the largest in the southeast, in case you're interested), I contemplated (no I won't go there) what the heck to do with it. The I said, aha! This is what I did: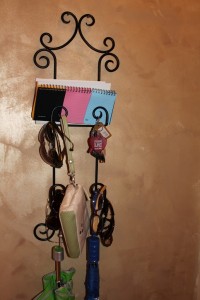 Keys, glasses (from 1 to 2.00 strength), sunglasses, community address book and to do lists (used by my husband).
And here are a few extras thrown in. Having started traveling the world in 1978, way before the Euro, I've collected all sorts of currency. I've given some to my nieces and nephews and to some kids I used to teach. But I did this one cold, snowy day. Again, I'm no Martha but not too bad: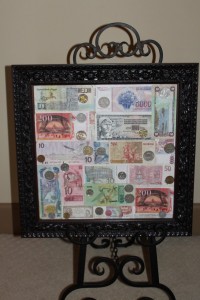 Most, now, defunct currency. The majority that are still in circulation, I've kept in the hopes I'd go back there!
Another reason we bought our current house was because there was a bonus room over the garage. The previous owners used it as a play room for their grand kids. I turned it into a library. I did see this somewhere so forgive me for stealing. Take book covers from your favorite books and frame them for your library: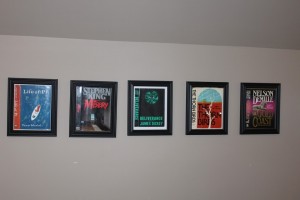 See what a perfectionist I am? They're crooked! I should have used those new Velcro things….
http://www.blogcatalog.com/directory/society/politics/conservative/