We are about to embark on a vacation that begins in Istanbul, Turkey. I've been fortunate to have visited that great city on a number of occasions. But what I want to try to bring to life for you is our first shopping experience in the Grand Bazaar. The building of the Bazaar began in 1455 and was completed in 1730. It has 61 covered streets and over 3000 shops. It is not a place to go for the feint of heart or for the OC set. If you don't know what you want or haven't scoured a map in advance or hired a guide, it will be like trying to see all of Pompeii in a few hours. Can't be done. One section is rugs, another semi-precious, precious jewels, another silver, leather, ceramics, souvenirs. Read more…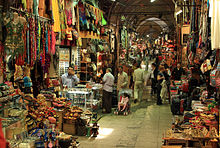 The best time to go is in the morning. One time I hired a driver for the day and had him take me to the Bazaar right when it opened. I'm blond (well, you know what I mean) and there by myself. The shop keepers were like, whoa, what is this? I got invited into so many stores and was offered Turkish coffee, tea or Coca Cola. Here's where I made a mistake. There aren't any bathrooms for females at the Bazaar. And when I asked for one, well, you don't want to know what it was like. I'd rather go behind a giant ant hill in Africa…If you go in the morning, everyone is calm and still half asleep. By the afternoon, you're pulled, pushed, yelled at. Go in the morning.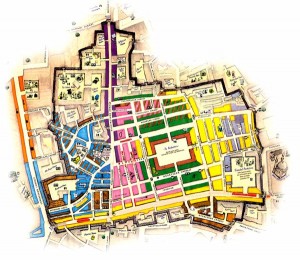 Look at this map. See what I mean. Prepare. So, the first time we go to Istanbul we're at the end of our Windstar cruise (we love Windstar). The cruise director instructed us that it was customary to bargain, something we Americans aren't accustomed to. She said that if the shop owner started at X, offer half that and then work on a price. She left out a VERY important point…which brings me to my story. We had started in Athens, cruised several Greek isles and had bought quite a bit of stuff. We had a few things in mind to buy, a piece of jewelry for me (natch), a nice piece of serving silver and another suitcase into which we could put all of the stuff we had bought. No issue with the jewelry. I found something I liked and we agreed on a price and bingo, new ring and ear rings. Now for the luggage. We found a store that had a wide selection. We went in and located a piece that would accommodate our needs. The store keeper said $200. My husband countered with $100. Ahh, that is too low said our salesman. $175. My husband then began to think we really didn't need the suitcase. He told this to the sales guy. He said, ahhh, you are very good. $150. No, my hubby said. You don't understand. We REALLY don't want the suitcase. At this point the sales guy got out a bic lighter with a flame about a foot long and began to run it up and down the length of the suitcase. See! It doesn't burn! And then be began to jump on it like the old Samsonite ads with the gorilla (I think that's who did those). See! It won't break! My husband said to me, let's go. We began to walk out and the guy says, OK OK OK. $100! We walked out and he screamed at us: but I met your price, I met your price!!!! The cruise director didn't tell us that it is also customary to buy the object if the sales person met your price. Hmmm. Could there be a strategy here? Next is the silver piece. We found a beautiful serving platter and the owner said $500. We said $250. He said $500. We said $275. He said $400. We said, you know what? We really don't need the silver and began to walk out…we walked halfway down the corridor and he still was not coming after us. Where was he? We walked sheepishly back to the store and bought it for $400. Just an aside. We were in Tangier and had been thinking of buying a rug. The guy said $1000. My husband said $500. The guy said $800. My husband said $400. The guy thought a moment and then cracked up. You are very clever, very clever Mr. V. We bought the rug for I don't remember how much, used it for a couple of years, renovated a house and gave it to charity.
On this trip, we're sailing on Regent (my first trip on them) and the trip begins in Istanbul. We don't have much time there. The guys don't want to go to the Bazaar, so my girlfriend and I are going. Unfortunately, we'll be there in the afternoon. But, I'm a smart girl (most of the time). There is a jeweler here in my city that I've done business with and he's TURKISH. I went to him to get some names of some stores that he knows of as legit. Of course, they're all run by his uncles or cousins. But I trust this guy. So we have a plan. I told my friend, though, whatever you do, don't drink anything!

http://www.blogcatalog.com/directory/society/politics/conservative/