I don't know why certain cultures or religions love their bones but the Italians sure do. I remember my first trip to Rome in 1978, I think it was, and part of our tour was a visit to a Capuchin Crypt located under the church of Santa Maria della Concezione dei Cappuccini. It is located on the Via Veneto (very fashionable) and right down the street from the US Embassy. The Capuchins are an order of friars in the Catholic church. They are an off shoot of the Franciscans. Anyway, this crypt contains the skeletal remains of over 4000 friars.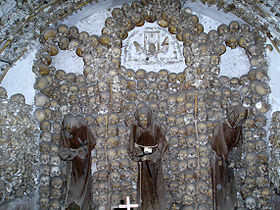 Read More…

The monks began their cemetery in 1631 when they brought 300 cartloads of skeletons to the church. The soil of the crypt was brought from Jerusalem. As the monks died during the lifetime of the crypt, the longest buried monk was then dug up to make space for a newly deceased monk. The bones that were dug up were added as "decorations" to the crypt. They were used for light fixtures, to trim the archways, and in intricate patterns, to cover the walls. And there are just piles of bones. You may not take pictures.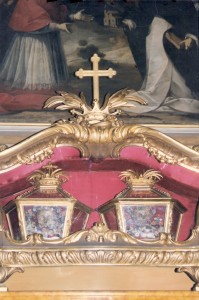 Flash forward to a trip my husband and I took to the lake region of Italy. This is a great place to have a rental car. Although the narrow roads "drove" my husband crazy. While I was exclaiming, "Look at that!" (like George Clooney's Villa) he couldn't because he thought a huge truck might hit us. But what's great about all parts of Italy is that you can be driving around and then see a sign that says "13th century church". You turn quickly and drive down a small dirt road to a small church that inevitably has…bones in it. I think we saw these skulls in a church close to Bergamo. Of course there is a care taker there who has been around as long as the church.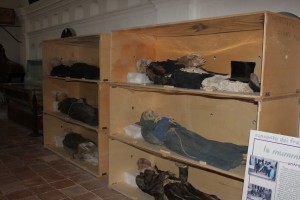 Our newest contact with the Capuchins was on our latest trip to Sicily. We were on an excursion to Savoca, where parts of Godfather Two had been filmed. But also located in the town is the Cappucini Church (wonder if the word "cappuccino" comes from them?) that was finished in the 1400's. Here you will find the mummified bodies of some 37 monks that died somewhere between the 18th and 19th centuries. As you can see, they are fully clothed. If I remember correctly our guide told us they covered the bodies in salt, to extract the fluids (nice) and then when mummified, clothed them and put them in this crypt. There is also a convent here that is in charge of the church as well as the crypt. They are Indian. I thought that was interesting.
So, if you're looking for some "bonefied" things to see in Italy, you won't have far to look…
http://www.blogcatalog.com/directory/society/politics/conservative/