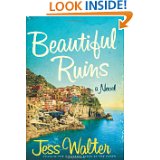 In 1997, Mr. Walter and his wife took a trip to Italy and visited the Cinque Terre region. He says he was blown away by the beauty and how "evocative" it was. At the time, his mother also had cancer. Both of these aspects of his life figure into the narrative of this great read…beach or otherwise. To set the stage (remember this prepositional phrase), I will start by giving you a list of characters that somehow all become connected in a 6 degrees of separation sort of way. Read more…

Pasquale: a young 20ish, attractive Italian man who runs his parents' pensione, Hotel Adequate View, in the little fishing village of Porto Vergogna which means Port of Shame.
Dee Moray: a beautiful young actress that is in the film Cleopatra (the one with Dick and Liz)
Pat Bender: drug addled son of Dee
Alvis Bender: alcoholic would be writer and WWII vet
Claire: script assistant to Michael Deane
Michael Deane: Once a great director and producer who now does scumbag reality shows for cable
Shane: would be screen writer who wants to pitch his screenplay Donner! (Yes, it's about the Donner party)
Daryl: addicted to porn and strippers
Richard Burton: Yes, THE Richard Burton
Here's the story: Dee, thinking she has cancer, leaves Rome to come to Porto Vergogna
to await a man whom she assumes will take care of her. She arrives at the Hotel Adequate View and Pasquale takes one look at her and he's in love. From here the story is not linear. We go to the future to see Claire and Michael and Daryl, then back in time to Italy to see Dee and Pasquale and Burton, and then again to the future to see Pat and Dee and Alvis. And so on and so forth. Some of these chapters are told in third person and some in first person. It all works, and it all ties together. Each chapter adds textures throwing together death and beauty, survival skills, small touching moments of heroism and cowardice and hidden identities. It's mainly a love story. Love of one's parents, love of one's home, love of one's career, love of someone you shouldn't love, love of money, love of oneself, and eternal love. The novel also covers vast geographical territory from Rome to Portland, Ore., to Edinburg, to Hollywood, to Seattle, to Sand Point, Idaho.
We also get quite a snarky look at the entertainment industry through the eyes of Burton, Dee, Deane, Shane and Claire. Reality TV's scraping for the flotsam and jetsam of society, the amorality of many, the "one minute you're in and the next minute, you're out" mentality and the "buying (or selling) of your life" to make big bucks.
The title, Beautiful Ruins, comes from a quote by the noted author and academic, Louis Menand, who in a New Yorker magazine article called Burton a "beautiful ruin". From the NY Times review of Beautiful Ruins, it says, "It (beautiful ruin) takes its essence from Milan Kundera, in a passage about the elusiveness of the present moment." Each character, in some way, becomes aware of this elusiveness. This ties in nicely with the constant human struggle to try to balance passion and desire with doing the right thing. Pasquale's mother summed it up beautifully, " what we want to do and what we must do are not the same…Pasqo, the smaller the place between your desire and what is right, the happier you'll be." All of the characters in this novel are in some way "ruined" but not all are beautiful.
Pulitzer Prize winning author, Richard Russo, said of Beautiful Ruins, "Why mince words? Beautiful Ruins is an absolute masterpiece."
Final word: I wouldn't go so far as to call it a masterpiece, but it is a great read.
http://www.blogcatalog.com/directory/society/politics/conservative/