Savages came out in 2010. Don Winslow, the author, said he got so many questions about the main characters in Savages that he just had to write a prequel. The Kings of Cool, which was published in 2012, was to satisfy his reading public but because he also already "knew their backstories."
The first chapter of The Kings of Cool is "F**k me." The first chapter of Savages is "F**k you." That's it. Those are two chapters. In both novels, Winslow uses, as I would call it, stream of consciousness writing. As it comes into his head, that's the way he writes it. Two words for two chapters? Puts a real powerhouse in those words. The writing is interspersed with screen play dialog: Read more…

SEAL TEAM MEDIC, (shocked, appalled), "How can you account for people doing something so…savage?
SEAL TEAM MEDIC, (jaded), Easy-they're savages. CUT TO:
He also uses acronyms. Lots and lots of acronyms: "PTLOSD, Post-Traumatic Lack of Stress Disorder." And the big one with the most significance is P.A.Q.U, referring to O, Ophelia's mother, "Passive Aggressive Queen of the Universe. "
He also uses etymology( the etymology of which is Greek and means "in the true sense") a great deal: "San Diego, Sun Diego, Sun Dog, Fun Dog.
Winslow was asked about this in an interview with CNN and he said: " One thing he was trying to get at is the fractured nature of the way we receive information these days. It's constant and it's short jagged bits." You're tweeting, emailing, skyping, with the TV on etc. So, he "was trying to reflect that."
OK. Enough with the writing style. It is fun and challenging. The stories. In The Kings of Cool, we learn about the beginnings of Chon (John), Ben and Ophelia (O) seen through the eyes of the drug culture beginning in the '60s until the present. So, we go back and forth in time. As Winslow says in his CNN interview, "Kings of Cool is largely their search for their origins. People don't just come out of nowhere." And the origins of Chon, Ben and O are wacky and sometimes hard to read. Especially the day Chon's father decides to teach him about trust.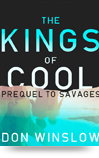 The Kings of Cool is a great appetizer for the main course: Savages.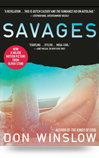 Ben is an idealistic, Peace Corp, green green kind of guy. At Berkley he majored in botany and business. Chon had a much harder upbringing and finds himself in the Navy Seals and ends up in Iraq and "Stanland". He has "baditude." O, finds it hard to believe that her mother, "Paqu", actually named her after a Shakespeare character that commits suicide. She is major OC (Orange County). Rich and pretty much worthless except for being called "Multiple Orgasm". She is in love with both Ben and Chon. Ben makes love and Chon, well, "f**ks". Problem: Chon brings home from Stanland the best possible marijuana seeds on the planet, White Widow. Ben, with his botany and business degrees becomes The King of Hydro, The King of Cool selling the best stuff around. And he's able to mix "the widow" to make you mellow, sex driven, mellow but alert, and/or wired. Big business for Ben and Chon. And then the Mexican drug wars start. (An aside. Winslow wrote a book entitled The Power of the Dog. For 5 1/2 to 6 years he extensively studied the drug wars and the players. His knowledge comes in very handy in these two books.) They're killing each other left and right so they then begin to look for safer territories aka the US of A particularly southern California. And their spot light beams right on Ben and Chon. Uh oh. The head of the Baja Cartel, The Queen of Red, Elena, wants the boys to work for her for a small remuneration. No, they'll stay indie, thank you so much. As the corrupt DEA agent, Dennis, tells them, "You want my advice, boys and girl? I'll miss you, I'll miss your money, but run." Then the boys decide f**k it. We're out of here. We'll liquidate and move to Indo, Indonesia. Not so fast. There's a chain saw waiting for you. And decapitated heads and guts spelled into words. And the kidnapping of the one true thing they love…O. Chon's "baditude" comes raging forth and Ben becomes something he never thought he would become…savage. The question raised is: Are Ben and Chon as "savage" as those that do the eviscerating and decaps? Are there different types of savagery?
As the NY Times reviewer said: "The Winslow effect is to fuse the grave and the playful, the body blow and the joke, the nightmare and the pipe dream. It's flippant and dead serious simultaneously."
http://www.blogcatalog.com/directory/society/politics/conservative/