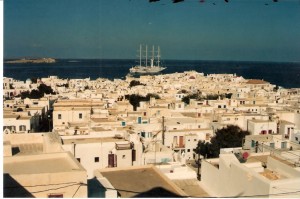 I was looking at a map of Nantucket…please, no. Don't do it. Their once was a girl from Nantucket, who said, if you want you can…Stop! There are too many variations for that ending. Buuuutt, while looking at the map, I noticed there was a "fat ladies beach" and a "nude beach". Whiiiicchhhh brings back memories of our Windstar Cruise which had a stop in Mykonos. There were three couples in our group. We were and still are dear friends. One of the guys had, without the rest of us knowing about it, via guide books scoped out the nudest beaches on Mykonos. Read more…
He found the two that most enticed him: Paradise and Super Paradise beaches. "We HAVE to go to these", he exclaimed. We rented two open air vehicles and proceeded down dirt and pocked roads to lead us to Paradise. Or so we thought. We reached "paradise" and the three guys just plunked themselves into the middle of the beach. The guy who wanted to go there had the video camera running full time. We women said, "You know what? This isn't our cup of tea." We proceeded to move toward the back of the beach and situated ourselves on a little over look. You know. To watch our husbands. Wink wink. As we're siting there, a naked man and a naked woman take out a camera. He says, babe, let's take some Penthouse shots. Uh oh. He begins to direct the lady to lay this way, and pose this way and ultimately, stick her head between her legs (no more. I'm a PG 13 kind of girl on this blog). He then hands the camera to her. Uh oh. Penis right, penis left, penis up. Uh oh. Head between the legs….Time to leave "paradise". So, we get in our vehicles and head to Super Paradise beach.
Here is the way the Greek Island web site describes Super Paradise: "Mykonos Super Paradise is less organized than neighbouring Paradise and has beautiful crystalline waters and soft golden sand. Super Paradise is the most famous homosexual beach of Greece, attracting homos and heterosexuals from all over the world. " Their words not mine.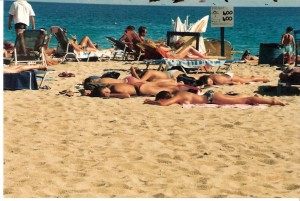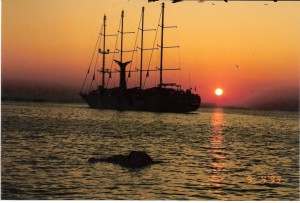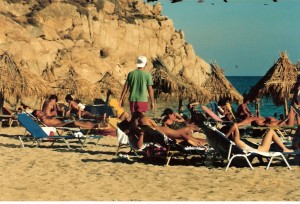 Our friend didn't pay attention to one part. NOT THAT THERE'S ANYTHING WRONG WITH THAT!" Hey naked women and naked men of what ever persuasion all look alike. We really didn't focus on the "famous homosexual" beach part until the sun started to set, the drums started to beat, and the dancing began. In earnest. Well, we DID need to get back to the ship, post haste, so we wouldn't be late for the ship's departure. Bye bye Super Paradise! The moral of the story: The guy who took all of the videos of the naked ladies left the video in his VHS player. His cleaning lady, not realizing what was on it, video taped the Young and The Restless over it…
My husband and I have sailed Windstar all the way from Lisbon to Istanbul. We love their small ship ambiance and the personalized service. Ms H, Ketel One shaken with 2 olives, right? Manu, I'll have three entrees tonight. Not me but our video friend…
http://www.blogcatalog.com/directory/society/politics/conservative/