If you go back in my blog posts, you'll see a post on My Memories of the 4th of July, Part One. It's spending the weekend of July 4th, 1976 at a 3 day Willie Nelson concert. Now flash forward to July 1996. My husband (a different one at this point and still happily married) and I decided to travel to Italy's lake country and see what we could see. We found some very interesting and unusual sites and activities. We stayed at the venerable Villa d' Este on Lake Como (George Clooney sightings? No.). The Villa is now a UNESCO World Heritage site. Work on the Villa and its grounds started in 1550 but wasn't completed until 1886. Our room was in the Princess Wing in a corner room that looked on to the Villa as well as having a full view of Lake Como. We ended up being lucky to have such a good location. Read more…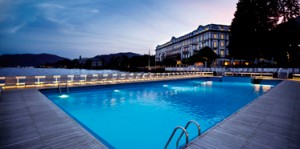 My husband and I had been to Italy quite a few times so this trip we were going to do the Clark and Ellen Griswold bit and find the "unusual". And that we did. First up, our trek to The River of Milk, in Italian Fiumelatte. It's a good hike up a mountain to find this thing but it is an amazing natural phenomenon. The river is only 820 feet long and only flows from mid-March through mid-October. Then it just dries up. Leonardo da Vinci climbed into the cavity from were the river flowed but could not find it's source. Us and Leo…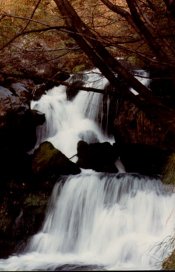 We then drove to beautiful Lake Maggiore. Unfortunately for us, our trip took place during one of the wettest summers in European history so it was raining, drizzling etc. The roads are very narrow and sometimes a one lane road going two ways. I kept telling my husband, "Clark…no Vin, look at that beautiful whatever!" And he'd said, "I can't! We might get smashed by one of these big trucks if I don't watch the road!". OK. I was having a better time. I had read that on the way to Lake Maggiore there was a small town named Arona and at Arona there was a 75 foot statue of a Cardinal that later had become a saint, Cardinal San Carlo Borromeo. It took 83 years to construct this thing. I guess not enough peasants lived long enough to finish it quickly. There is a beautiful view from up here and as you look across the lake, you see an old Roman castle that was built in the 13th century.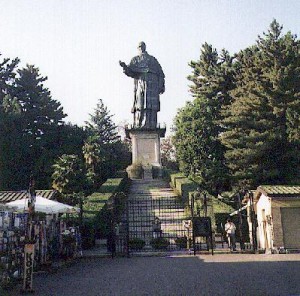 As you enter the castle and purchase your tickets, you are asked if you would like to get two tickets each, one for the castle and the other…for a doll museum featuring BARBI! No, we said. The castle would be enough.

As we were touring the castle with its 17th and 18th century tapestries, we did see the garish pink and purple neon sign of the Barbi Collection. The museum itself has over 1000 dolls from the past 200 years. Over 12 halls are used to house the collection. I guess the monies collected for the doll museum help with the cost of the upkeep of the castle.
Next stop for Clark and Ellen is Isola Bella which ain't so bella. We take a short ferry ride over to the island. Here's the issue with the place, the villa is one ugly edifice. It was started in 1632 by Carlo the 3rd for his wife, Isabella. So one architect starts. Carlo dies and his sons take over. New era, new style, new architect. This is in the mid 1660's. They die and a nephew takes over. New era, new style, new architect. It's finally finished in 1671 and is such a mishmash of design it can give you vertigo. But the gardens are absolutely beautiful. During ts hay days Napoleon and Josephine stayed here and Hitler met Mussolini here, also.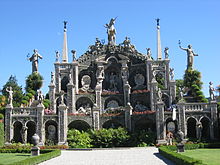 Now on to the original topic of 4th of July memories. We were at Villa d' Este during our 4th of July. Little did we know that the Villa has had a 4th of July celebration every year since the end of World War Two. To thank the good old US of A and it soldiers for liberating them. I saw a flier at the front desk and inquired about the program. For $300 per person, we could partake in a delicious sit down dinner with champagne and wines, dancing and fireworks. The Griswold's thought that was a little steep so instead, we went to a little trattoria and got back to our room just in time for the music. The Villa had a full orchestra and sitting on our balcony, as the music floated in the air, I felt as if I were in a time warp. They started with '20's music with singers who sang Al Jolson. Then on into the '30's, '40's, all of the big band hits as well as patriotic songs and ended with the '50's. While this was going on, cars were parking on the mountain road in back of the Villa, locals wanting to see the fire works. And the whole time boats where gliding out into the lake with the fire works. The fire works lasted about 45 minutes. I have to regard this evening as one of the best travel memories I have along with that of my husband almost getting munched by a hippo in the Okavango Delta.
We made a few other trips: Lake Lugano, not realizing that with the new euro zone and that because of that, even though we were going from one country to another, we didn't need our passports; to Bergamo
and on the way veered quickly at the sighting of a 16th century church with the bones of their patron saints and a care taker as old as those bones. Then, sadly, back to Milan and our flight home. While in Milan, if you want to see The Last Supper, you need to make prior arrangements. Viewings are few and far between. Be sure and see the Duomo and go to the top. A beautiful view of Milan and the Tuscan hills awaits you.
So, there you have it. From the dried out fields caused by a summer shuddering heat to Willie Nelson and three days in "another" world to the aristocratic villas of northern Italy. What can I do for Memories of the 4th of July Part 3?
http://www.blogcatalog.com/directory/society/politics/conservative/