Just a few final thoughts, ruminations and odd ball stuff…
My Kenya Air flight was delayed out of Joburg (for those of us in the know, it's called Joburg) by an hour and 45 minutes.  The flight from Joburg to Nairobi is about 4 hours.  My connection was going to be very tight.  I was impressed with Kenya Air.  We were on a new 737.  What surprised me was that they offered unlimited free alcohol in coach. And this was on a 10am flight.  As we were taking off one man kept calling out to several other men the kinds of planes he was seeing as well as their tail numbers.  One guy was furiously writing them down.  One guy even had a spread sheet on his computer with all of this plane info.  When we landed I just had to ask "what are you guys doing?"  They were a group of airplane enthusiasts that travel the world tracking planes.  Yep.  I guess that's one way to keep the hubby out of the house.  When we landed in Nairobi, I had 15 minutes to catch my flight to Kilimanjaro.  In all of the years that I have been flying, I have never had this happen.  Kenya Air had a bus waiting to take the transiting passengers directly to their airplane!  I soon found out why.  All of the people that were transiting were on the same flight…my flight!  They wouldn't have any passengers on that plane if they hadn't bussed us in.
I enjoy "bush" flights.  1000's of these small plane flights occur everyday in Africa.  Some are as short as 20 minutes, going from one camp to another, or they be up to a couple of hours, like us flying from Lobo in Northeastern Tanzania to Arusha.  They mostly (not all) are Cessna Caravan planes that seat from 6-20 people. The pilots are typically young but very experienced.  We've had pilots from South Africa, New Zealand, Australia etc.  On this last trip something happened that had never happened before.  The runways are all dirt and gravel.  Part of the landscape.  As we're landing we see a small herd of wildebeest right in the middle of the run way.  They did scatter very quickly.  The flight are very efficient and almost always on time.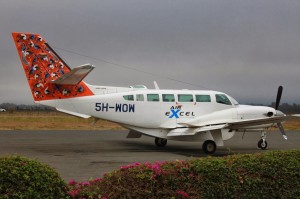 One more thing about the flights.  When the tour operator tells you only soft sided bags and gives you a weight limitation for your bags, listen to them.  They WILL make you take things out of your bag or make you switch to a duffle that they provide.  I was a little over this year but my sister was under, so we came out OK.  As far as thinking "your kidding, right? Only 30 pounds total including camera equipment etc?"  Yep.  Keep in mind that each of the lodges has laundry service included (once you're on safari).  So you only take things that can be washed and hung out to dry.  African Travel suggests you take only enough cloths for 4 days.  A great place to buy safari clothes, particularly cotton capris, is Chico's.  I also bought plain Land's End tee shirts and Sketchers Go Walk Walking Sneakers.  The Sketchers sneakers are exceptionally light weight and easy to get on and off.
And finally, if you find, like me, that you need to stay a night in Joburg, the City Lodge is a fine place to say and reasonable in price. There is no need to go into the city unless you have a driver.  It's only for your safety.  It's located on top of the parking garages, a 5 minute walk.  I know people like to stay at the Intercontinental, which is right out the front of the airport, but it's $300+ a night whereas the City Lodge is around $150.  They do have day rooms available from 12 noon until 6pm.  I paid $80 and it was perfect for my 8 hour layover.

Jambo (hello).  Asante  sana (thanks a lot). Hakuna matata (no worries). Karibu (You're welcome).  The only words I learned in Swahili…