My sister had sent me a YouTube clip of Robert Downey Jr. singing along with Sting. I didn't know Downey could sing. But my focus was on Sting. I looked at that video and asked myself how could I possibly be a woman of a certain age and not have seen Sting in concert. Sting? How about The Police? I'm into this "why not" phase of my life. So I called my sister, who is always ready for some excitement, and said, hey, guess what sis? Sting is doing a series of concerts with Paul Simon and opening night is in your city, which was Houston. Book'em Danno! Now the seats were not inexpensive because we WERE seeing two legends. Off to the concert we go. I had told my sister that after seeing the marathon concerts with Billy Joel and Elton John that the concert probably would last a while. It did. 2 hours and 45 minutes. They could have kept on keeping on. They have an accumulated music history of almost 90 years. Since this was opening night, you could tell they were still working on timing and vocals. Plus putting their two bands together, 15 musicians in all, must have been a fun undertaking. The band included Paul's horn and percussion sections and Sting's great group of guitarists and backup singers. There were definitely times when these musicians were the stars on the stage.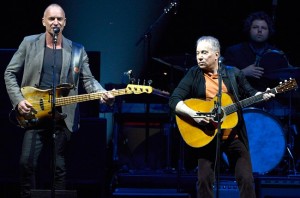 Sting is 62 and you can tell that Tantric yoga works well for him. He had on a grey long, sleeve tee shirt with a silver jacket. When he took the jacket off in his first full set, well, the ladies in the audience let out an audible sigh. The tee shirt looked like it had been painted on. He may now clip his hair short but none of us cared. His voice is as strong and powerful as ever. He didn't jump around the stage but did do some reggae moves which the audience, meaning women, appreciated. On the other hand, Paul is pushing 75. As with most aging singers, his range is getting very limited. His band would start a song, one that most of us have heard tons of times, but couldn't recognize because the key was so much lower. I mean how can you not know Me and Julio Down by the School Yard? At first, the rendition they performed was not recognizable. The fact is it didn't matter. Paul was engaging with the audience and genuinely seemed to be having a great time. Plus Paul is a true poet. Some of the best lyrics in music have been penned by him. What we liked was Sting would sing a Simon song, like Bridge Over Troubled Waters, a cappella I might add, and then Paul would sing Every Breath You Take, and then they'd sing together. Awesome. It sure brought back those days of slow dancing and first loves. Ahhhh, those were the days.
Of course the crowd was older but there were many 30 somethings and 40 somethings there. I would surmise more for Sting than Paul. In a way they are both losing their fan base to an audience that listens to Eminem and Macklemore. The baby boomers, their bread and butter, are moving on, so to speak. To exemplify this theory of lost fan base, here is an anecdote: While waiting on the phone with a customer service rep, I said I was going to go see Sting in concert. She asked, who? I started to sing Roxanne, and she said, OK, I got it. I don't think she did. My sister and I were compelled to see this show not only to see these musical icons but also before we get to that stage when we ask, Sting who?