Defending Jacob is a book about parents finding themselves in a situation that will change their lives forever.  Andy and Laurie have an only child 14 year old Jacob.  They are good parents.  Andy is Associate District Attorney for his small town.  Laurie is the one everybody goes to looking for consolation or advice.  A classmate of Jacob's is stabbed to death on his way to school.  Was it the sex offender living in the neighborhood who had not listed himself as a sex offender?  Or, was it Jacob?  Rather than continue with the plot, I'm going to ask you a series of questions that my book club members pondered as we discussed the novel: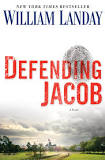 How well do you know your children? Andy and Laurie thought they knew Jacob.  They did but chose to overlook or forget certain aspects of his past behaviors.
Do you know if your children are lying to you?  Jacob could look both of his parents in the eye and lie through his teeth.
Do they have the annoying ability of getting the upper hand?  Jacob did by turning the questions back on his parents.  You think I could do such a thing?
Do you or are you willing to look in your child's room while they are out if you suspect some wrong doing?  Jacob's father does.  But for a totally different reason.
Do you have your children's passwords for Face Book and Twitter and other on line or phone accounts?  Andy and Laurie did.  Or so they thought.
Are you aware if your child is being bullied?  Andy and Laurie did not.
Can a child be inherently evil?  Or is it a learned behavior?  Andy thought it was inherited. Is that possible?
What would you do if your suspicions about your child became true?   That your child did indeed do the deed?  Andy and Laurie have different strategies for this dilemma.
Can young offenders be rehabilitated? If the crime is so heinous, should they be tried as adults?
Unfortunately, too many parents today have to deal with the severe consequences of their child's actions.  And the sad part is that the lives of everyone involved will never be the same.