Talk about three very distinct books.  Not only are they diverse in their writing styles but also all over the place in setting, characterization and theme.  What do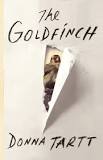 they have in common?  I could have put each one down and not picked it up again.  Huh?  Yep.  I picked up the The Goldfinch, by Donna Tartt,  because it won the Pulitzer Prize and everybody's been talking about it.  I picked Guilty Wives, by James Patterson, because a friend recommended it as a great beach read.  I chose China Dolls, by Lisa See, because I loved Snow Flower and the Secret Fan and Shanghai Girls.  I'm the type who, when once making a commitment to read a book, actually reads it.  I don't put books down once I start.  According to Good Reads, about 20% of books started are left unfinished.  With these three, I could have stopped any time.  Then why review them?  Because somebody out there likes them.  Can you say Pulitzer Prize?  OK, one book at a time.
The Goldfinch, in my humble esteemed opinion, is a hybrid book which channels Elmore Leonard and Freud.  What the hell does that mean?  The basic story is this:  Theo is a 13 year old boy living in New York City with his mother.  His father has abandoned  them.  He and his mother go to an art museum.  While there they are victims of a terrorist bomb.  His beloved mother dies.  He finds himself by an elderly man who is dying.  He gives the boy a ring and tell him to go to Hobart and Blackwell.  For some reason, Theo decides to take with him a small painting that is a Dutch masterpiece, The Goldfinch.  The painting is the crux of the story.  Its whereabouts moves the story along.  Theo then is whisked away to Las Vegas by his father and his girlfriend, Xandra.  While there, he meets Boris, a beaten down, lonely, drug addled teenager.  That plot line is the Elmore Leonard part.  These two get in all kinds of trouble with drugs, gangsters, bookies and art thi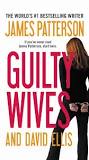 eves.  The rest is all Freud.  Good plot string and then psycho babble.  Good plot string then psycho babble.  This book is 800 pages.  I admire anyone who can write a coherent plot and keep it going for 800 pages.  But more than half of the books is…say it with me…psycho babble.  Everyone I know that has read it says they skipped pages.
I haven't read a James Patterson novel in years.  Years.  When my friend recommended Guilty Wives to me,  she had, as of yet, not finished it.  When someone reads a book, each of us is looking for something different.  Whether we like it or not is colored by our own reading and life experiences.  My friend liked the book.  I did not because I thought it was outlandish.  Really?  It is James Patterson,  you dope.  Anyway, 4 women of diverse race and nationality but whose lives intersect because they live in the same place, Austria, decide to have a girls' weekend in Monte Carlo.  They are all young, good looking and have successful husbands.  They proceed to party down and end up on a millionaire's yacht with guys they've picked up.  Sex ensues, too much drinking, passing out and then they are awakened by French special forces because the owner of the boat is shot and killed and he turns out to be not what he's supposed to be.  The women are thrown in prison, treated horrifically and put o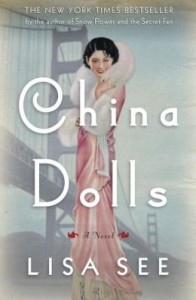 n trial.  Then they're really treated horrifically.  What didn't I like?  The story is ABSURD, OUTLANDISH, and ABSURD.  It is James Patterson, you dope.
Lisa See takes a totally different tack in her new novel, China Dolls.  This time the story takes place all within the United States and is populated mostly by Asian Americans i.e. children born of Asian parents but born in the United States and are United States' citizens.  It's a story of three girls, late teens to very early twenty's, with totally different backgrounds but all damaged in some way.  They vow to be best friends for life, the three musketeers!  The story line is during the late 1930's and into the 40's and post war America.   There are three things I did not like about the book.  The dialog is hokey.  Ms. See tries to evoke the era by using the slang of the day but it just doesn't "cut the rug" so to speak, "don't worry, squirt", "it's true, you're a real hoofer", "you're a good egg".  It is peppered with Confucius sayings (or somebody's sayings): "When fortune comes, do not enjoy all of it; when advantage comes, do not take all of it", "you can not wait to sink a well until you're thirsty nor can you wait to make a cloak until it starts to rain".  And last but not least, none of these three girls are likable.  Grace, Helen and Ruby are supposed to be the three musketeers but they're mean to each other, take each others boyfriends away, and turn on each other in a heart beat.  Wait.  They are young women, are they not?