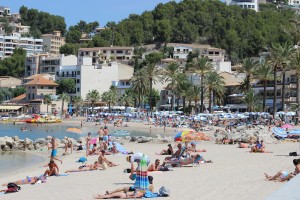 In addition to great food, service and accommodations, Windstar has a water sports' platform off the aft part of the ship.  They have water skiing, kayaking, sailing etc.  The only time this option is available is when the ship tenders, meaning drops anchor away from the port.  The only stop on our cruise where they could do this was in Soller (pronounced sawyer) on the island of Majorca (Mallorca).  There's a quaint village, Puerto de Soller,  where the tender drops you off.  To get to the town of Soller you need to take a tram which costs 5EU ($6.47 US) each way.  We got off of the tender and, with husbands in tow,  immediately walked towards the shops.  The village did have some nice shopping.  We kept seeing this tram go by and as we were eating lunch, we asked our waitress where it went.  She said we could pick it up right outside the restaurant and that it went into the town of Soller.  So after lunch we park ourselves right next to the tram tracks and we ladies tried to do a Claudette Colbert to get the tram to stop.  Well, the waitress had been wrong about one thing.  The tram did not stop outside of the restaurant.  That's not totally true.  It did stop…for locals.  After about 30 minutes of this, my hubby and friends were getting antsy to get back to the ship to enjoy the water sports' platform.  Off everyone went except for me.  I wanted to go to Soller.  I asked where I could pick up the tram, was given directions, boarded the tram and off I went to a quaint town in the hills of Marjorca.  It's a short ride of about 15 minutes.  Soller has a scenic square, of course, and it has a cathedral as well as a museum of natural history along with beautiful botanical gardens.  The square is surrounded by shops and and bars and restaurants.
Meanwhile, back at the ship the water sports' platform is now open.  If you want to water ski you need to book that in advance.  There was a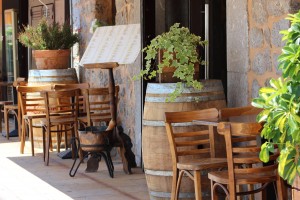 large family on board and they booked all of the time slots.  I hear all of this second hand.  My friends and my husband head out to the two floating "islands" attached to the back of the ship.  There is also an inflatable, floating trampoline and slide.  The floating "islands" are really two 20×20 foot floating rubber mats.  My husband and his BFF get on one of the mats along with other people.  My husband and his BFF thought, this is boring just laying here.  We're like seals.  Let's do something interesting.  Interesting to them means acting like 16 year old's and not men of a certain age…who should know better.  They decided to see if  by standing on them and moving the mat with their feet in certain ways if they could knock each other INTO THE WATER.  The bet was to see who could knock the other one off the most.  Now there are other people on the mat but not for long.  Once these teenagers started their "game", the others moved to another mat in an effort to not get fallen on.  Apparently my husband, who is very agile but out weighed by the other guy ( all that means is that my hubby is skinny,  CMA!), keeps getting knocked down but not into the water.  All the while yelling, I'm down!  No I'm up! I'm down! No I'm up!  This apparently went on for about 30 minutes.  At which point one of the other passengers said to my friend, these guys are really annoying…
Me?  I'm strolling the tree lined streets of Soller and enjoying the town's atmosphere.  My friends had hoped I'd be back in time to get all of the "fun" on video.  Alas, this was not to be.  On board daily activities? Stretch and relax, yoga, water sports platform, seminar on "eat more to weigh less", pilates, seminar on acupuncture, live music, captain's reception, port of call talk and casino and then more live music.
Next up: Valencia and Cartegena
http://www.seemallorca.com/mallorca/soller
http://www.tripadvisor.com/Attractions-g319794-Activities-Soller_Majorca_Balearic_Islands.html