I'm sure that most of you are aware of the ALS challenge.  You have the option of either donating $10 or whatever or instead have a bucket of ice water dumped on your head.  Most people did both.  It actually got very tiring watching these videos after a week or so.  But another challenge has popped up.  It's the "what books have you read that were an inspiration to you?"  Now I believe that if the ALS people use their 100 million+ donation dollars to good use i.e. research and development, that challenge will be worth it.  This one is more esoteric.  It gets you to thinking.  Hmmm, what books really inspired or challenged me in some way.  Here is my list of ten.  I'm sure there are some I have forgotten but I know these effected me in some way.  I'm not a big reader of non fiction books that are meant to inspire, motivate, change behavior like the famous best seller Who Moved My Cheese.  I have been inspired by people  to do those things.  I had two bosses that did that as well as my husband.  So, here's my list of ten.
First up will probably be a surprise, but it's any Zane Grey novel.  Say what?  Zane Grey?  I grew up in a very small, 800 soul community, with very little work opportunity or social activities.  As a child I had the choice of playing in the hay stacks or working cattle with my Dad.  My grandmother had these Zane Grey novels.  I picked out Riders of the Purple Sage, and I was hooked.  Since I loved horses and lived in south Texas, I felt a real communion with these stories.  I now have every one of his novels.
Another thing to do in my home town on a Saturday or Sunday was to go to the lone movie theater and watch horror movies.  I was thrilled and horrified out of my 10 year old skin by Dracula and Frankenstein.  When I became a teenager I decided to read Bram Stoker's Dracula and became hooked on the theme of vampires.  Then in my 20's I read it again and then understood the sexual undertones of the novel.  I even wrote a blog about it, sex and Victorian England and Dracula…https://www.satisfyingmycuriosity.com/2009/02/02/sex-victorian-england-and-vampires/.  Stoker never would  have imagined True Blood…
I cried after I read Watership Down by Richard Adams.  As a kid, change definitely brings trauma to your world. The change that the rabbits endure are certainly traumatic and deadly.  We now know that the rabbits were a metaphor for our changing, industrialized world.  But for a kid, you didn't know that.  You're thinking of sweet little bunny rabbits being killed by mean, old farmers trying to make more money.  I understand that this is now a reading list staple in high schools.  This book was also a favorite on the lists of those that I challenged.
I adore, fall on my knees and all hail Yann Martel for Life of Pi.  Okay,  hyperbole.  But this novel makes my list as one of the best books I have ever read.  It challenged me to suspend belief in order to believe in what Martel was trying to tell me.  The part with Pi trying out all religions and then taking a little of each,  I thought was brilliant.  I know this book is also on most high school reading lists and the kids mostly go, "huh?" It is beautifully written, full of exquisite imagery and great story telling.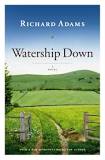 How many time have I read The Lords of the Rings? Perhaps dozens.  The world that J.R.R. Tolkien created is a master piece.  It is supposed to be about the industrialization of England.  But hockey puck to that.  It's about orcs and elves and wizards and good versus evil.  These three books sucked me in like a sink hole.  No other books of fantasy have ever done that for me again.  Forget Hunger Games and Game of Thrones or whatever is out there.  Long live Gandalf, Frodo and Lord Aragorn.
Ever contemplated doing something outlandish and then turn it into a book?  I can't say that I have.  But Bill Bryson certainly did in A Walk in the Woods.  This book reminded me that you are never too old nor should you become so complacent to try something new.  He decides that he is going to walk the entire Appalachian Trail.  The trail starts in Georgia and ends in Maine.  The book is a combo plan of travel guide, self discovery manual, and thriller.  I understand a movie has been made with Robert Redford as Bryson and Nick Nolte as his hapless sidekick, Katz.
I like to read books about places I'm going to visit.  In this case, it was 1979 and I was going to Spain.  I had never understood bullfighting.  I love Ernest Hemingway's style of writing so I read his non fiction book Death in the Afternoon.  I still don't understand why people believe it's thrilling to watch two animals fight until death.  Hemingway greatly enjoyed bullfighting but then again he enjoyed big game hunting for sport.  I just found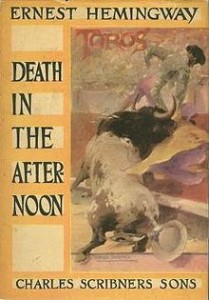 it fascinating to read about someone trying to explain, psychologically,  why people enjoy this type of thing.  I just returned from Spain and the bullfights, yes, they still go on.
Ah, Blanche Dubois.  The virtuous whore.  Or so Tennessee Williams wants you to believe.  The reason Street Car Named Desire is on my list is because I had such fun teaching this play to my advanced placement American literature students.  Oh the conundrum of Blanche.  Whore?  Well, we didn't use the term whore.  It was the late 1970's after all.  Innocence destroyed by circumstance?  Or simply promiscuous?  What a wrenching character Williams' creates in Blanche and what lust he portrays in Stella and Stanley.
Infidel by Ayaan Hirsi Ali really brought to front of my mind the plight of women in the Muslim world.  Ali was born in Somalia and fled that worn torn country to Kenya and then made her way to the Netherlands.  After years trying to make her way, she goes to college and then becomes a member of parliament.  She becomes involved in a film on women in Muslim society.  It is not a flattering view of the religion.  The director of the movie is brutally killed for making this movie.  Ali moves to the US.  She was recently asked to speak at Brandeis University commencement but was abruptly cancelled because of her "anti" Muslim stance.  Freedom of speech?  Not…
And finally a novel by the man America either loves or hates as a writer…Stephen King.  I remember reading The Stand while backpacking in the Chisos Mountains in Big Bend National Park.  It was 1978 and it was a stormy night on Casa Grande, the highest mountain in the park.  A storm was brewing my friends.  Lightening and thunder and the anger of the gods!  And me and my spouse in a tiny tent waiting to ride it out.  And in my hands is the novel that foretells the outbreak of a major pandemic.  Was it AIDS?  The influenza virus?  Don't know.  I just know it scared the you know what out of me.  It's the best Stephen King I've ever read.  But the circumstances, I'm sure, had something to do with i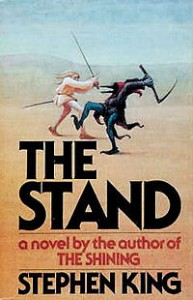 t.
Okay then.  I challenge you to come up with a list of ten books that have inspired you, challenged you or made you risk taking the fork in the road…