There is nothing like wasting a day while on vacation particularly if you've spent a considerable amount of money on that vacation.  I felt that way the day we were docked in Cartegena.  I know cruise lines are constantly on the lookout for ports of call that will offer something of value to its passengers.  It's better to have a port of call than add another day at sea.  Since this cruise was called "The Splendors of Southern Spain", we were going to see the "splendors", damn it!  The only two options offered by the cruise line we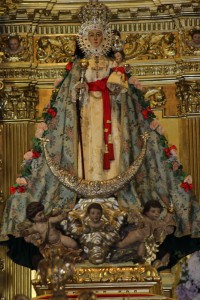 re to do a 4 hour city tour that included a stop at the Roman theater or to take a 4 hour trip by bus to the capital of the area, Murcia.  This area of Spain is surrounded by coastal mountain ranges and has many panoramic views.  We opted for the Murcia trip because there is a beautiful cathedral and a monastery of the Virgin of Fuensanta (the Patroness of Murcia).  Here was the problem.  It was Sunday.  And in these small towns almost everything is closed on Sunday.  Including the Cathedral.  What good does it do to give you free time to enjoy the streets and shops IF THEY'RE CLOSED?!  The monastery was open, though, and the shrine to the Patroness was beautiful. The monastery's shop was open and I did buy a beautiful rosary for my mother.  When we returned to the ship,  some of us decided to walk to the Roman amphitheater.  It was an interesting way to spend a couple of hours.
Our next port of call, Almeria, was far more interesting.  Here we once again booked a tourbylocalguides.com tour.  We were going to Granada and see the Alhambra.  An aside…While on the trip I read online that a guy wanted to fly from Amsterdam to Granada.  He didn't look at his ticket.  He gets on the plane and about 4 hours into the flight he begins to think, hmmm, it's not that far from Amsterdam to Granada.  Folks, he was on his way to GRENADA!  The spice island in the CARIBBEAN!  The trip offered by the cruise line was 9 1/2 hours in a coach at a cost of $279 pp.  Again, our trip was a lot less plus we were not at the mercy of a large group.  This was a beautiful drive.  Gorgeous snow capped mountains, acres and acres of sunflowers and acres and acres of solar powered wind farms.  Dumb tourist question…what do they do with all of those sunflowers?  Use the seeds.  Oh yeah?  What do you do with the seeds?  Eat them.  Duh.  You dope.  Anyway, there are also homes that are built around caves so that the inhabitants live in both a cave and a man made house.  We arrive and begin to meander down beautiful ancient streets lined with boxes of cascading flowers.  As we come around a corner, there is a panoramic view of the 14th century Muslim-Hispanic complex of The Alhambra.  To quote the cruise line: "This breathtaking example of Muslim architecture is surrounded by walls and towers and inside, palaces, military buildings, a fortress and an administrative center. The nearby Generalife Gardens surround this residences of kings and caliphs."  Nuf said.
On our way back we did learn a little bit for trivial pursuit.  The bizarre, almost lunar appearance of the landscape has made it a popular desert location for the movie industry. 
 Lawrence of Arabia as well as a sombrero load of westerns including the Spaghetti Western Fist Full of Dollarswere filmed here.  Rumors have it that Henry Fonda, while filming a movie here, fathered a son who is also in the movie business.  Hey, that's what the guide said.
If you didn't get off of the ship at this port of call, you're an idiot.  But, be that as it may, if you didn't you could: stretch and relax class, yoga class, seminar on powerful posture, pilates, port talk and at night: enjoy music by Cool Breeze, local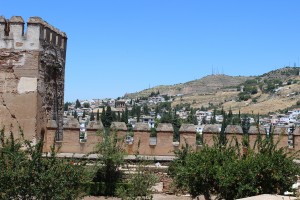 entertainment of Flamenco Dancers (damn I missed that, too!), live music by the duo of Craig and Nicola, more music by Cool Breeze and enjoy the cocktail of the day the Jerez Cocktail.  Whatever that is…
Up next… Malaga and Cadiz…