I had heard about Top Golf on Bryant Gumbel's show Real Sports on HBO.  He featured this new business to showcase the drop in the number of people who play golf.  Yes, actually, the number of people playing golf has decreased over the last few years.  Gumbel was spotlighting Top Golf because Top Golf caters to everyone…the golfer and non-golfer.  How is that possible?  Well, it's simply their concept.  They want to be a venue for singles, families, husbands and wives, girlfriends etc to enjoy the evening by offering a variety of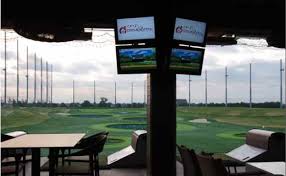 options…and it does include golf.  Here's the concept:  Have you ever seen those pictures of the multi-tiered golf bays in Japan and New York city?  Here at Top Golf, they have three levels from which to hit.  But the purpose is not to practice. Well, for the golfers it's a way to practice.  If I remember correctly they have seven "flag" areas.  This means they have seven areas that you try to target with your shot.  They range in distance from 50 yards to over 200 yards.  Of course there is a huge net around the place for the big drive players.  In the target area are webbed quadrants.  There is a micro chip in each ball.  As you hit the ball to your preferred target and the netting catches the ball, the ball will transmit a signal of A which target, B which location in the quadrant and C how many points you get.  There are 7 games you can play and depending on the game you choose, the game will determine how many points you get. We played Top Golf, the more accurate your hit and the further it goes racks up the points.  We also played Top Score, the further you hit the ball, the closer to the flag, really racks up the points.  Accuracy counts in both.  I know they sound similar but in the first you get more points for accuracy not necessarily length.
The cost isn't all that bad.  It costs $45 to rent a "bay" for one hour (after 5 pm).  A bay allows for 6 players.  There is a $5 fee to get a Top Golf card, which makes you a member.  It's a one time fee.  We actually had gloves which was a rarity on site.  Most of us golfed barefoot considering you're hitting off of mats.  Another cool thing is you don't need clubs.  Each bay has a set.  Now if you're a purist, these clubs won't suffice.  But they're good enough to play these games and, probably, your skill level.   The bays are different.  Most have counter height tables and chairs.  Ours had couches and coffee tables.  The food was really good.  We had cheeseburgers, fries, flat bread, quesadillas, chips and salsa.  Drinks were on the minimal side in size.  Which I guess is good if you're really trying to play golf.  For two hours, not including the $5 membership fee, I spent $65 which includes food, two glasses of wine and two hours of golf.  There were 8 of us spread out in two bays. We each hit 20 balls each hour.  The service was a little slow but not bad considering you can hit balls as you wait.  They do have valet parking.  This was an outing for the girls.  But I could easily see doing this with the hubbies.  But as I said, this is for a variety of people.  In addition to the golf, they have a billiards room and a huge bar with big screen TVs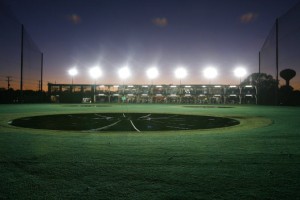 .
Top Golf is located in AZ, CA, CO, FL, GA, IL, KS, OK, TX and VA.  They're also opening ten new locations nationwide.  If you're in any of these top golf destinations, check out Top Golf.  It won't replace playing at a top golf spot, but it is fun for an evening of skill games.  Oh, we figured the upper bays, meaning levels two and three, are better for scoring. If you're on the ground floor and you hit a low ball i.e. "bad" shot, it can catch in a short shot web and you'll score lower.  It's first come first served and they only take reservations for 12+ people.  We'll be back.
topgolf.com/us/