I should have seen this coming from a mile away.  We decide on the itinerary of the cruise and we tell my husband's BFF that we are going to Seville.  Oh, are we going to see a barber?  Yuck yuck.  Before we head to Seville, let's talk about Malaga.  It's mainly known for being the birthplace of Picasso.  This is the port of call in which I had a specific shore excursion I wanted to do and the rest of the group decided to do it also.  I wanted to go horseback riding.  Here's what the cruise line says about the excursion:  "Tak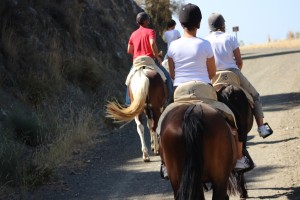 e an idyllic ride on an Andalusian horse through the trees and groves of the beautiful Mijas mountain region.  The scent of pine fills the air as you return along narrow forest trails which are only accessible on horseback."  Sounds idyllic, doesn't it?  That's not what we got.   It was a lot of laughs with temperamental horses and sore butts followed by a great meal of tapas and wine.   What we got instead were your typical trail horses that would rather be back at the barn.  And there was no "scent of pine" with "narrow forest trails".  We basically followed roads up hills.  But, the views from up there of the ocean were beautiful.  It was fun and much better than looking at another cathedral.  It was $125 pp.  The cruise line offered another interesting shore excursion…seeing Malaga by Segway ($119 pp).  I'm sure I'd run into something on that thing.
My daughter had done a semester abroad at the University of Sevilla (that's the way it's spelled in Spanish).  What a lark that was.  I went over to see her.  So again, I let the other ladies lead the way and they booked Top Day Tours, http://www.spaindaytours.com/ for our trip to Sevilla. Our port of call was Cadiz, Europe's oldest city.  It is over 3000 years old and was founded by Hercules.  Yep, Hercules.  From there it was about a two hour drive but it was a beautiful one.  We saw tons of interesting things.  We strolled through the old Jewish quarter, gawked at the splendor of the cathedral (yes, we're still gawking), had gelato, and did a little shopping.   The shore excursion for a private van for 8 hours was $1999.  We had a driver and two guides and we paid a lot less than that.   If you're going t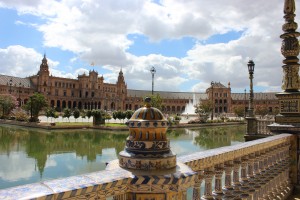 o Spain and you want to spend some time in Seville, I highly recommend Hotel Alphonso XIII, http://www.hotel-alfonsoxiii-seville.com/.  It was built in 1928.  You do need to be careful with the size of the rooms.  Some are very small but that is typical of older European hotels.
If you didn't take any of the excursions from the ship you could have done:  that old stretch and relax thing, another round of yoga, gone with the chef to the market (that actually would have been cool), by now your core is well toned from another pilates set, you've gotten to know that the band Cool Breeze is made up of Filipinos and are now on a first name basis with Rain Duo's Craig an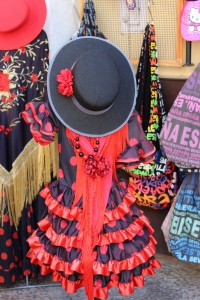 d Nicola.  This night is one of the highlights of dining on Windstar.  It's the big BBQ out on deck.  The food was delicious and plentiful.  After that, you could go to the casino or join other guests in line dancing. There is no way you could get me to do that.  I'm not a follower. It was our last night on the ship and we were sad to have to leave.  All of that anticipation and now it's almost over.  Two more nights to go…Lisbon here we come!