Over the last few months, I've read quite a few children's and young adult books.  Here are some that I really enjoyed or found interesting.  I'm surprised at the level of sophistication in many of the young adult books.  So here goes:
Sway by Amber McRee Turner for ages 9-12.  Cass is a ten year old whose mother works as a relief aide worker.  Her mother is gone for long periods of time.  Cass can't wait until her mother comes home, but when she eventually  does something unthinkable happens.  Her mother decides to leave her family for another man and his children, which will leave Cass alone with her "dull as dirt" dad.  Her father buys a junk of an RV calling it "The Roast", and off they go on an adventure that Cass would prefer not to take.  She's always thinking about how to bring her mother back.  While on the road, Cass' dad introduces her to the power of "Sway".  It's a seemingly magical force that can bring inspiration and joy to people in major need of help.  Can this "Sway" help persuade her mother to come back to them?  This book deals with loss, abandonment, and the power of positive thinking.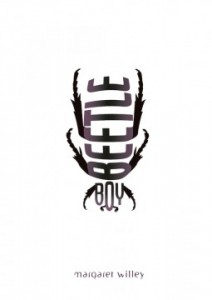 Beetle Boy by Margaret Willey for ages 10+.  Charlie Porter's mother has also up and left him with his father and his younger brother.  One night his father comes home drunk and Charlie tells him bedtime stories that his mother used to tell him.  He hopes it will quiet him down.  It does and to the extent that he asks Charlie to write all of the stories down.  His father then has them published and at the age of 7, Charlie becomes the world's youngest author.  The story is told in flashbacks.  Charlie is now grown and living with  a girlfriend.  He has horrible nightmares about his upbringing.  His girlfriend is constantly questioning him about these dreams, which only dredges up more of the pain.  The crux of the book illustrates the price children face when they grow up without an ounce of parental stability.  It also showcases the trauma caused by being known as Beetle Boy and having to dress in a beetle costume in front of his peers.  There is mature language and sexual situations.
We Were Liars by  e. Lockhart for ages 12+.  Think Gone Girl for teenagers.  What we have here is an extremely unreliable narrator.  Cadence Sinclair Easton comes from old mone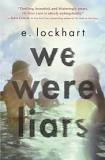 y.  Each summer the extended family goes to their mansions on a private island off of Cape Cod.  Cadence is joined by her cousins Johnny and Mirren, and their friend Gat (the four Liars).  During their 15th summer on the island, Cadence suffers a mysterious accident that no one will tell her about.  The doctors feel it's better for her to remember the details herself.  She spends the next two summers, and the course of the book, in a haze of amnesia, debilitating migraines, and painkillers, trying to piece together what happened.  You jump back and forth in time trying to decipher what actually happened.  There's a lot to talk about…race relations, class, dysfunctional families, romance etc. But the real passion of the novel revolves around the crushing truth of the accident.
Looking for Alaska by John Green ages 14+.  John Green also wrote The Fault in Our Stars. This book was the winner of the Michael L. Printz Award, an ALA Best Book for Young Adults, an ALA Quick Pick, a Los Angeles Times 2005 Book Prize finalist and a number of other awards.  Miles "Pudge" Halter is done with the safe life at home.  He's looking for a group of peers that will take him to "the Great Perhaps".  He leaves Florida and goes to a boarding school in Alabama.  He is totally unprepared for waht awaits him…Alaska Young, a gorgeous, clever, funny, sexy, self destructive, screwed up teenager.  She brings him into her sphere.  Through her peer group they teach him to drink, smoke, have sex and play reckless pranks.  The book is divided into two parts, the before and the after.  You soon realize what the "after" is…This book deals with loneliness, the urge to belong, parental love or parental malaise, and suicide.
Rush Revere and the Brave Pilgrims: Time Travel Adventures with Exceptional Americans, Rush Revere and the American Revolution, and Rush Revere and the First Patriots by Rush Limbaugh for children 6+ .  I know.  I know.  It's Rush Limbaugh.  But, these books are very successful.  His first book about the pilgrims won a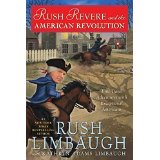 very prestigious award, author of the year award for Children's Choice Book Awards.  Of course the people that despise Limbaugh's conservative stances had a conniption fit over the award.  Limbaugh is convinced, and I agree, that our children are not being taught the truth about early American history.  We are skipping around it, being politically correct about it or the teacher teaches what they believe our kids should know.  The stories are basically this: Rush Revere is a grade school substitute teacher who happens to have a talking, time traveling horse named Liberty.  In each book Rush takes 2 students back in time on his horse Liberty.  They then encounter the original pilgrims, the great heroes of the revolution and the first patriots.  I will say this.  The writing is terrible and he uses an inordinate amount of exclamation points.  Drove me nuts.  But these are books that your younger kids will enjoy having read to them.  They are fun and the talking horse has a great sense of humor.  They are also good for home schooling.
I have to finish with Skink: No Surrender by Carl Hiaasen for 12+.  I love Hiassen's off beat sense of humor.  But this novel takes on a very serious topic, that of online stalkers who are looking to lure our teenagers into the sex trade or abuse.  In this case, Malley, to avoid being shipped off to boarding school, takes off with some guy she has met online.  She is 14.  Her cousin, Richard, knows she has gotten herself in over her head.  But here comes a character that Hiaasen has used many times in his novels, the one eyed, wild ex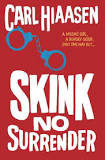 -governor of Florida, known as Skink.  Richard and the governor ride through blinding storms, crazed pigs, flying bullets and giant gators.  With Skink at the wheel, you'll find the novel both nail bitingly tense as well as laugh out loud funny.
http://www.amazon.com/Rush-Revere-Brave-Pilgrims-Time-Travel/dp/1476755868
http://www.carlhiaasen.com/
http://www.amazon.com