I'm a big fan of CSI Las Vegas.  I've been watching it for years.  A few years back I saw an ad for a new TV show entitled Longmire that was premiering on A&E.  It looked intriguing.  It was a criminal procedural not set in LA, or NYC, or any other big city but set in the sparsest populated county in Wyoming.  The main character is Walt Longmire, Sheri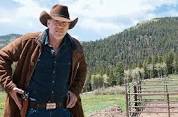 ff of Absaroka County.  He drives a pickup truck named Bullet, he carries a Colt M1911 (whatever that is), and wears cowboy boots and a custom made cowboy hat.  I watched the show, fell in love with it and then A&E cancelled it.  Why?  Even though the show was A&E's most successful show EVER, it did not bring in that much coveted younger demographics that the advertisers love.  But there is good news.  Netflix picked it up and season four will premier sometime in 2015.  In the meantime,  what's a woman of a certain age to do?  Well, read the series by Craig Johnson, of course!
There are 11 books in the series.  So, I started with the first, Cold Dish, and am now on number 11 with the 12th coming out in May 2015.  I love these books because they are stripped of any high tech contrivances,  delve into Indian lore and mysticism, and have very well defined, yet flawed, characters.  Walt was a former college football lineman at USC, Vietnam veteran, and a recent widower.  He remains a decent man despite his wide ranging knowledge of humanity at its worst.  His side kick is Henry Standing Bear otherwise known as the Cheyenne Nation.  He also was a football player at USC, a Vietnam Viet, and now runs a bar on the reservation named The Painted Pony.   When he speaks, it is without any contractions. Handsome devil, too.  Walt's deputy is Victoria Moretti, Vic, who's from Philly and has a really dirty mouth (not my favorite character).  Not because she has a dirty mouth, which is a mainstay of her character, but because of the story arc.  And then there is Walt's daughter, Cady, who is a big city lawyer and whose relationship with her father is tenuous, at best.  The plots are not as sexy as CSI's. Instead they delve more into the mundane of everyday living i.e. poverty, human trafficking, polygamy, fracking, survival, and the still difficult relationship between whites and Native Americans.
I like the fact that Walt has a sense of humor.  In the book I'm now reading, Walt is sitting by a man who gets shot in the mouth by a bartender and sees, " blood, tissue, and teeth scattering…onto the table."  When Lucian, an old coot who was sheriff before Walt, asks Walt how the guy is doing, he responds, "Alive, but he's going to need some dental work."  He's also smart quoting Shakespeare, explaining the caste system of India, and is an encyclopedia on the history of the old west.  As Lucian says, "Better than a bookmobile." The thing I don't like about Walt, but I'm sure some would call it heroic, is that he is tenacious to a fault.  Once he starts a case, he finishes it no matter whether his daughter is getting married or she's having a baby.
If you want a break from all of these high tech procedurals and from big city soot and crime, pop the top of a Rainer beer, Walt's favorite, sit in front of a roaring fire and read away.  You might even want to buy a pair of new boots…To save you time, here is a list of Johnson's books in order.  It does help to read them in order.  There is some sequence plotting…Cold Dish, Death Without Company, Kindness Goes Unpunished, Another Man's Mocassins, The Dark Horse, Junkyard Dogs, Hell is Empty, Divorce Horse, As the Crow Flies, Christmas in Absaroka County, Messenger, A Serpent's Tooth, The Steamboat, Any Other Name, Dry Bones. 
http://www.craigallenjohnson.com/
http://deadline.com/2014/11/netflix-picks-up-longmire-1201289364/
http://www.amazon.com/