The first book, Angels at the Gate by T.K. Thorne,  was sent to me by a publisher for my purview. Ms. Thorne started her career as a police officer and went on to be a business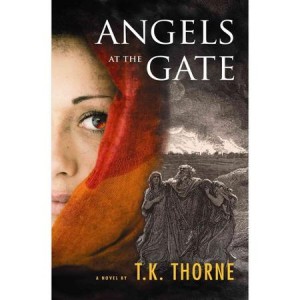 improvement district director.  One would think that if she wrote a book it might be about crime or fraud.  But, no, she writes a very good historical fiction book about Lot's wife (Lot and his wife are in the Old Testament and are in the story of Sodom and Gomorrah). There is very little known about Lot's wife (her name isn't even given in the bible) other than she turns into a pillar of salt.  Ms. Thorne takes this small thread and turns it into a "can't put down" story.  It's probably easier, actually, to do this if there isn't a whole lot (pardon the pun) known about the character.  You're free to create what you want.  Except in historical fiction, you do need to get the historical part right.  The author had to do a tremendous amount of research on the Old Testament and on the lifestyles of it's inhabitants.  She creates a name for Lot's future wife, Adira, and starts the story with Adira as a child being raised as a boy in her father's caravan.  Adira enjoys being a boy because she quickly deduces that she has far more freedoms as a male rather than the lack thereof for females.  After some murder and mayhem, the dilemma Adira has is whether to return to her family and thereby keep a promise to her father or go in search of  her kidnapped "angel".  That "angel" would be one of two mysterious strangers, Mika and Raph, whom everyone believes are angels and messengers from God.  The character I liked the best was actually, Nami, a large hunting dog.  Nami is important because she has a pivotal role in many of the major scenes.  Of all the characters, the one's with the least depth and aren't well fleshed out are the angels.  But then again it seems that is the way they are portrayed in the Old Testament.  In her author's notes, Ms. Thorne provides anecdotal evidence to support why she chose to tell the biblical parts of the story the way she did.  She also supplies a very helpful list of all of the characters.
It must have sounded like a good idea at the time.  Let's take homeless or orphaned children off of the lawless streets of New York City and put them into the warmth and comfort of the heartland.  From 1854 until 1929, 250,000 children were placed with foster families in every state except Arizona.  Most were treated well but most were worked like animals.  Girls, often times, were sexually abused.  As to the children's well being after their placement, there was no followup by the Children's Aid Society. This is the story behind Christina Baker Kline's Orphan Train.  Niamh, pronounced Neeve, has just lost her family in a tragic fire.  She is sent to an orphanage run by nuns.  While there, she is selected to be one of the children to be sent on the "orphan train".  This was in 1929.  Flash forward to today and there is another story line of Molly, father killed in a car accident and with a drug addicted mother, now living in foster care.  Molly steals a book from the local library and is on course to be sent to juvie.  But her boyfriend comes up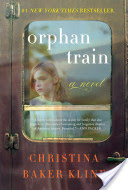 with the idea of community service helping an elderly woman clean out her attic.  The elderly woman turns out to be Niamh now called Vivian.  As Vivian and Molly clean out her attic, it becomes apparent that Vivian simply wants to go back over her life.  And as she does, she helps Molly deal better with her abandonment and loss issues.  If you would like to read more about the "orphan trains", link to this site: https://www.nytimes.com/books/first/o/oconnor-01orphan.html.  Even though Ms. Kline does a great job in describing what these trains were like, this review on a non-fiction book about them adds more insight.
The Good Girl by Mary Kubica is a psychological thriller about a school teacher who is kidnapped.  The question you begin to ask yourself as you read the novel is…is Mia REALLY a good girl?  Mia Dennett is raised in a wealthy family with a judge as a father and a distant, detached mother.  Her father assumes she will follow in his and her sister's career path and become a lawyer.  But Mia's love is art…drawing and painting.  This is not to her domineering father's liking.  So, he in effect, stops supporting her.  She becomes an art teacher at an inner city school.  She has a boy friend but not really. For a date, they are supposed to meet at a bar.  He stands her up.  She decides on a one night stand.  Bad idea.  Then the search for Mia begins and the story takes its twists and turns.  With this kind of story, the less said is better….This was a book club selection for my Bibliochix group. We had a great discussion.  Who can you trust?  Who can you believe?  What affect does parental behavior have on a child?  As a reader, at what point do you pick up the major plot line?  I picked it up about half way through but it still doesn't give you an idea about how it's going to end.  My book club gave it a 4 out of 5…