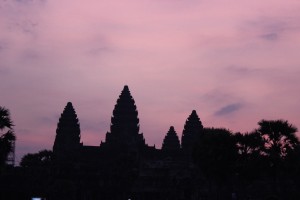 Yes indeed.  This is my Bernie Sanders travel year.  I just got back from the lands of Pol Pot and Ho Chi Minh (for the uninitiated, that's Cambodia and Vietnam) and next month I'm off to the land of Fidel and Che (that's Cuba).  Well, I didn't go to the first two places because they're communist.  I went because I grew up during the Vietnam war and have always wanted to see Angkor Wat.  We decided to do an AMAWaterways tour and cruise down the Mekong.  By doing this, you actually get to see more.  You do have to do some advance planning for this trip.  For Vietnam, you do need a visa to enter the country.  You can get the application online and do it yourself, mailing everything to the consulate.  This will save you money.  Once I looked at the application, I decided I'd use a visa company to do the work for me.  My laziness probably cost me a couple hundred dollars.  You also need a visa to enter Cambodia.  This can be obtained at the airport in Siem Reap.  But I did an e-visa that's on the Kingdom of Cambodia's website. This is also the kind of trip where you have to take a lot of medications with you because you don't want to have to go to one of their hospitals.  As I was told time and time again by the technicians at my favorite nail salon.  Plus, the boat doesn't have a doctor on board.  I just went to my primary care doctor and got cipro, a Z pack, pain meds, sleeping pills.  Then every kind of over the counter drug for any stomach ailment you can think of.  I did forget one thing and it turned out to be needed.  More on that later.  You could go to one of those travel clinics but they're expensive and try to get you to fear every disease known to man.  You do need malaria pills.  They're by prescription only.  And take insect repellent.  As far as clothing, we went in Feb., which is dry season, and therefore, hot.  I'm a golfer so I took all these moisture wicking clothes.  The boat is very informal so no need to bring dressy clothes.  You do need to wear clothing that touches the knee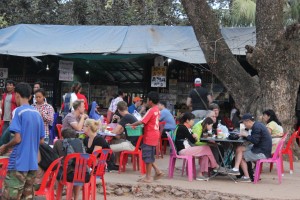 s with the shoulders covered.  That's for visiting all of the Buddhist temples.  Our trip started in Atlanta, GA  flying to Siem Reap, Cambodia.  Folks, this is a long ass trip.  The flight from Atlanta to Narita, Japan is 14 hours, a two hour layover, and then another 7 hours to Bangkok.  We had an overnight there and then took Bangkok Air, a one hour flight, to Siem Reap.  It was the same on the return except we flew from Saigon to Bangkok then home.  Watched a hell of a lot of bad movies.
Cambodia is a very poor country.  Third world.  The pollution is thick and smells of burning.  There is trash everywhere.  But some of the best hotels in the world can be found here.  We stayed at the Sofitel Angkor Phokeethra Spa and Golf Resort.  The beauty of this hotel is that it is only 15 minutes from Angkor Wat.  Angkor Wat. A Unesco world heritage site which is the largest existing religious complex in the world.  It sits on 1.5 million square meters of land.  It was built between 802 and 1220 AD.   After we went to Angkor Wat and many of the other temple complexes in the area, we came away with two thoughts.  That they all needed power washing and we felt that at any minute those huge stones were going to topple on our heads.  The continuing support work obviously had not been done by a structural engineer.  Getting to Angkor Wat for the sunrise is a zoo.  Tuk tuks, the fun but highly dangerous scooters with wagons attached, are the main mode of transportation to the site as well as huge tour buses.  The site is also surrounded by outdoor eateries and coffee houses.  The kind of place Anthony Bourdain would frequent.  Can you say Pepto Bismol?  We were there during Tet, the year of the monkey, the Chinese New Year.  The object of our desire was to get there early enough, 5:30AM, so that we could get a good site in which to catch the sun rising behind the temple with its outline caught in the lake in front of it.  Hah hah…Good luck with that.  I now, officially, hate selfie sticks.  We would have had to get to an elevation of 12 feet or more to get a picture without a selfie stick in it.  Then, it's 6:45 and the sun still isn't up and our guide says we need to leave to get to the inside of the temple.  We need to get in line to climb to the 3rd floor.  They only take so many visitors.  So we stumble to wait in line 45 minutes to an hour to climb very narrow and steep sta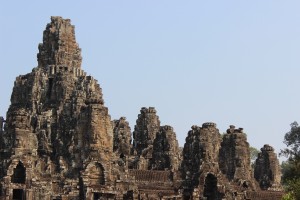 irs.  This visit is worth it because once you reach the 3rd level you have panoramic vistas from all corners.  If you have any disabilities with bad knees, hips etc, you won't be able to do this part.  Is visiting Angkor Wat worth it?  I hate to sound like a travel snob but if you've been to the great pyramids of Egypt and/or to Machu Picchu then Angkor will not blow you away.  If it's on your bucket list, then by all means.  The Cambodian people are very gracious.  At first, it's rather disconcerting when they temple their hands and then bow.  Next up:  Phnom Penh and the Killing Fields.