I have never been a great fan of Jane Austen.  Gasp! But I love the movies made from her novels.  I got an email from Book of the Month (books@bookof themonth.com) about the best books of 2016.  One listed was Eligible by Curtis Sittenfield.  The book is part of The Austen Project which w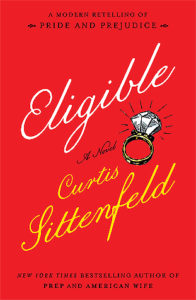 as started to try and get modern authors to rewrite Austen's books by modernizing them.  Sittenfield's attempt is Eligible based on Pride and Prejudice.  Since I never read Pride and Prejudice,  I watched the latest movie version starring Keira Knightly.  It's a good movie and certainly gave me a framework in which to read the book.  The story takes place in Cincinnati with the focus of the story being Mr. and Mrs. Bennet and their 5 daughters, Jane, Elizabeth, Mary, Kitty and Lydia.  Mrs. Bennet is a match maker extraordinaire.  In comes Mr. Bingly, who has just been on The Bachelor, without making a proposal.  His friend is Mr. Darcy, a renowned brain surgeon, and very, very wealthy. Let the dating and double entendres begin!  Instead of horses we've got airplanes.  Instead of letters we have texts.  We've got LGBT, women's lib, reality TV, and artificial insemination.  Sittenfield does revert back to Austen with some of his dialog, "I wouldn't want to offend your sense of propriety."  It's a fun romp ("hate" sex anyone?).  But best book of the year?  Nope.  But if you like Jane Austen, give it a try.
My grandmother was a Parker.  I grew up in south Texas.  It was always family lore that we were ancestors of Cynthia Ann Parker, the mother of the legendary Comanche chief, Quanah Parker.  I did AncestryDNA (ancestry.com) and no dice on Native American blood.  Dang it.  As a child, Cynthia Ann had been abducted by the Comanches, married, had children and then was recaptured and returned to white "civilization".  She starved herself to death.  In News of the World by Paulette Jiles (National Book Award finalist) we have a similar situation.  Captain Jefferson Kyle Kidd, 72 years of age, is a reader of news.  As he travels throughout Texas, he gathers newspapers from all over the world.  He then goes into the wilds of the state, rents a venue, charges people a dime to come hear him read news to scintillate and educate.  He reads stories from the wilds of Africa to the social pages of NYC to the dress of Eskimos and about wars in far flung countries.  He is regarded as a decent,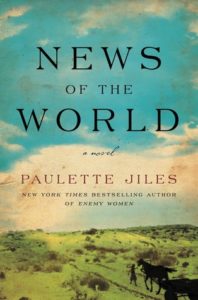 law abiding citizen.  A young German girl, who had been kidnapped by the Kiowas, has been ransomed back and he is asked to take her to her aunt and uncle in south Texas.  He doesn't want to do it but feels it is his moral duty to do so.  The child, ten years old, has been captive since age 4.  She doesn't remember a thing about her past life.  She is rebellious and badly wants to return to her "people".  Ms. Piles seems very interested in children like this girl.  She seems to repeatedly question why a child who had been kidnapped by the Indians "always" wanted to return.  So, they begin their journey.  Ms. Piles' descriptions of the landscapes are spot on.  The journey is fraught with not only the danger of Indian attacks but also bandits, sex slave traders and the unpredictable Texas weather.  The key to this book is trying to figure out how is it going to end.  Does it end like Cynthia Ann? Does the Captain turn her over to her relatives?  Or another ending. It's a little hard to keep up with the way she structures the dialog, but you'll learn to savor it.